Cheshire carer jailed for abusing dementia patients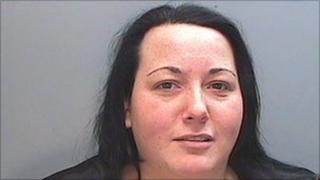 A woman who abused elderly people with dementia at the care home where she worked has been jailed for 18 months.
Kerry Murphy, 27, slapped and screamed at one of her six victims because the 80-year-old smiled at her, Liverpool Crown Court heard.
Murphy, who worked at St Luke's Nursing Home in Runcorn, Cheshire, was found guilty of neglect and ill treatment of persons without capacity.
Judge David Bolton told her she brought "shame on her profession".
Murphy's offences only came to light when six of her colleagues came forward after witnessing the attacks.
The victims, aged between 70 and and 93 years of age, were repeatedly slapped and punched, the court heard.
Iris Hasset, 93, who has since died, had her hands slapped by the care worker.
Ernest Shaw, 78, was punched in the head because he made noises while she put his pyjamas on, the court heard.
Sylvia Barr's 70-year-old husband, Leslie, was slapped round the face by Murphy during one of her night time outbursts.
He was also screamed at and had his hands slapped.
"I feel very upset to think that its been ongoing for two years.
"I have had sleepless nights thinking about him being abused in the home when he was supposed to be looked after."
The abuse, at the 60-bed home in Palacefields Avenue, took place between September 2007 and October 2009.
Murphy's colleagues, who said they remained silent because they feared her, finally came forward by writing a letter to the care home managers.
The owner of the care home, Community Integrated Care (CIC), is investigating the incidents and trying to discover why its staff felt they could not come forward.