Major earthquake exercise in Liverpool tests rescuers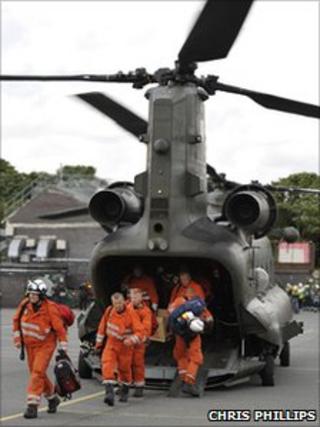 Emergency service teams from across England and Wales are in Liverpool taking part in one of the UK's largest ever disaster exercises.
More than 100 firefighters, 23 fire engines and five helicopters are responding to a simulated earthquake over two days.
It is staged at Birkenhead Tunnel and the rescue service centre in Croxteth.
Exercise Orion, organised by UK Fire and Rescue Services, is carrying out a simultaneous scenario in Portsmouth.
Merseyside Fire and Rescue Service has been joined by Urban Search and Rescue Teams (USRT) from across England, who have flown into Croxteth in a Chinook helicopter.
An urban street disaster has been created at the centre, including blazing buildings, trapped casualties, damaged vehicles and a flaming gas pipe.
Birkenhead Tunnel has been turned into a disaster scene through the simulated partial collapse of its roof and a wreckage zone has been created involving 40 vehicles and trapped drivers and passengers.
Two Sea King helicopters and the Merseyside Police and North West Air Ambulance helicopters are also involved in the deployment of rescue teams.
A Merseyside Fire and Rescue Service spokesman said: "The incidents are part of a national tactical exercise aimed to test the UK's response to a catastrophic earthquake that simultaneously hits several parts of the country."
Merseyside Fire and Rescue Service's Assistant Chief Fire Officer Dan Stephens said: "The scale of the exercise makes it wholly unique in the way that it will test the resilience of our fire crews and we want to ensure the scenario is as realistic as possible, with the inclusion of multi-agencies, USAR teams from across the country and even five make-up artists to work on the casualties to create a greater sense of realism for the crews involved."
The exercise in Hampshire involves teams from across Europe and the Middle East and has been funded through a 1m euro European Union grant.
Market Rasen in Lincolnshire was hit by the biggest earthquake in the UK for nearly 25 years in 2008. It caused damage to chimneys and roofs.