Yoko Ono revisits John Lennon's Liverpool childhood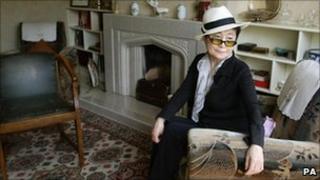 Yoko Ono paid an "emotional" visit to John Lennon's former school as part of an event to mark what would have been his forthcoming 70th birthday.
Ono met children at Dovedale School in Liverpool, where she also opened a new Sure Start children's centre.
Later, she visited Mendips in Woolton, Lennon's childhood home he shared with his aunt Mimi from 1945 to 1963.
She said it made her "choke up" to visit her husband's bedroom where he dreamed as a teenager.
Hanks film
During his childhood in Liverpool Lennon attended both the infants and junior school at Dovedale, where a hand-written ledger still has an entry of his name, address and date of birth.
Ono, who was given a rapturous welcome by hundreds of Dovedale pupils, looked at some of the children centre's facilities including the walking piano she donated after seeing it in the Tom Hanks film, Big.
After the school visit she travelled to Mendips, which she bought in 2003 and donated to the National Trust so that it would be preserved.
She said: "Each time I come here I go into John's bedroom and it really makes me choke up because to know he was actually dreaming in such a small space but dreaming of the whole world and what he was going to do - I'm sure he knew on some subconscious level.
"It's nice for the children round here too, that they are now going to be creating the future for us."
The legendary musician, who was shot dead outside his New York home in 1980, would have celebrated his 70th birthday on 9 October.
Ono, wearing a white trilby hat and tinted glasses, said it did not feel like 30 years since her husband's death but instead "feels like only yesterday he was here with me".