Runcorn wife murder accused 'said marriage was over'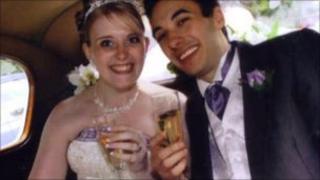 A man murdered his wife and then told friends their relationship was "over", a court has heard.
Michael Roberts appeared "distant and quiet" while Victoria, his wife of just five months, lay dead at their Cheshire home, jurors were told.
Roberts is accused of strangling Mrs Roberts, 25, after she confronted him about his affairs with other women.
The 27-year-old, from Runcorn, denies murder at Liverpool Crown Court.
He admits killing her but claims it happened accidentally during a sex game in which he throttled her.
Mr Roberts' friend Lavinia Tolley told the jury she met him the day after his wife died.
'Give himself up'
Ms Tolley said the defendant usually "never stopped talking" but he was quiet that day and told her "it had only just hit him that his relationship with Vicky was over".
Over the next few days, Mr Roberts sent text messages from his wife's phone and concocted a story, prosecutor David Steer QC said.
Mrs Roberts' body was found by police in the couple's garage four days later.
He spent the next few days using false names to stay in hotels before appearing outside Ms Tolley's shop in Wrexham on 6 December, the court heard.
Ms Tolley said she spoke to him and "urged himself to give himself up to police".
"He said he planned to, but he needed time," she said.
'Distraught and heartbroken'
Mrs Roberts' friend Lorraine Lee told the court Mrs Roberts' was "distraught and heartbroken" about her husband's infidelities but was determined to save their marriage.
She also told jurors the dead woman's mother had shown her a text message she had received from her daughter's phone, saying she had left her husband and "would be away for a while".
Ms Lee said she was suspicious as the text was "long winded" and not in her friend's usual style.
The prosecution say it was a bogus text message sent by Mr Roberts from the victim's phone to make her loved ones believe she was still alive.
The trial continues.