Cheshire man 'murdered wife and hid body in garage'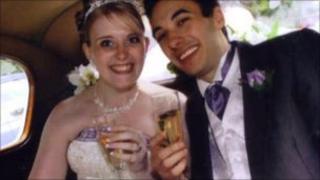 A cheating husband murdered his wife after she found out about his infidelity just five months into their marriage, a court heard.
Michael Roberts, 26, of Runcorn, Cheshire, admits killing Vicky Roberts, 25, last November, but denies murder.
Mr Roberts claims his wife's death was accidental and that she died during a sex game in which he throttled her.
Liverpool Crown Court heard that Mr Roberts cheated on his wife before and after they were married in June 2009.
David Steer QC, prosecuting, said they appeared to be the perfect couple but "the reality was altogether different".
Mr Steer told the jury Mr Roberts, an assistant manager at a Phones 4U store, began an affair with one colleague several months before getting married.
'Sweet dreams'
Then in April 2009, two months before his wedding, Mr Roberts met another sales assistant at Phones 4U who he also started an affair with and the pair spent the night together at a hotel after a work outing to Chester races in October.
The second woman was under the impression Mr Roberts and his wife had split up.
The court heard that by the end of October, Mrs Roberts, who was "besotted" with her husband, suspected he was having an affair.
A few weeks before her death, the couple were sleeping in separate rooms of their home in Partington Square.
Mrs Roberts told her friend Lorraine Lee "that she was not going to give up on him and wanted to work it out"," the court heard.
The jury was told how Mr Roberts had told police his wife put a bathrobe cord round her own neck while they were in bed together and "on several occasions she asked him to pull it tighter".
After her death he had several telephone conversations with one of his lovers, finally sending her a text message saying: "Good night beautiful, sweet dreams xx".
Body under duvet
The prosecution said he spent the next few days covering his tracks by sending texts from his wife's phone and concocting a story.
Two days after Mrs Roberts' death, Mr Roberts wrapped her body and moved it from their top floor flat to their garage, where he covered it with a duvet, the court heard.
He told his wife's parents she had left him and taken her passport - so her parents contacted airports in a bid to trace her.
They called police to report her missing, and two officers visited Mr Roberts and looked in the garage but missed the concealed body.
Later that night, two more officers went to the flat and one of them asked to have another look in the garage.
Noticing the duvet, he asked Mr Roberts to show him what was underneath and Mrs Roberts' body was found.
Mr Roberts immediately fled on foot and the police gave chase, but lost him.
The case continues.