Parents held over death of Shafilea Ahmed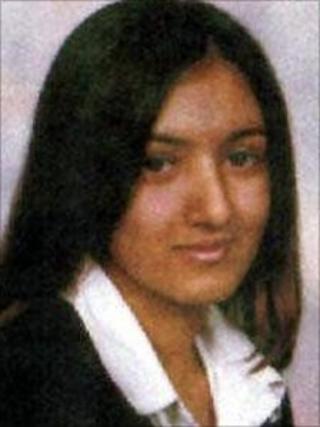 The parents of suspected so-called "honour killing" victim Shafilea Ahmed have been arrested on suspicion of her murder, police sources have said.
Shafilea went missing from her home in Warrington in September 2003, aged 17. Her decomposed body was found in the River Kent in Cumbria in January 2004.
A coroner ruled in 2008 she had been unlawfully killed. No-one has ever been charged with her murder.
Iftikhar, 50, and Faranza Ahmed, 47, were arrested in Warrington earlier.
There is a police presence outside the family home in Great Sankey, Warrington.
Police have previously arrested the couple on suspicion of kidnapping, believing it was a so-called "honour killing", but the Crown Prosecution Service later concluded there was insufficient evidence.
Five other family members, from Bradford, were also arrested but never charged.
The family have always denied any involvement in the schoolgirl's murder.
Shafilea went missing on 11 September 2003. She was reported missing by a teacher a week later.
East and South Cumbria Coroner Ian Smith, who presided over Shafilea's inquest, said the teenager suffered a "vile murder".
He said the concept of an arranged marriage was central to Shafilea's death.
A medical expert told the hearing the schoolgirl had been smothered or strangled.
The coroner said he believed she was taken from her home on 11 September 2003 and that she had not run away.
The teenager feared she was being forced into an arranged marriage by her mother and father, the inquest heard.
A few months before she was killed, Shafilea had refused an arranged marriage, and, during a visit to Pakistan to meet a prospective husband, had drunk bleach.
In his evidence to the inquest, Mr Ahmed said an arranged marriage would need the consent of the young people involved.
He said he accepted his daughter's reply of "no way" when a potential suitor was mentioned.
Shafilea's sister Alisha, 22, was arrested last week in connection with an armed robbery at her parents' home, in which her mother and siblings were tied up by a gang of armed men.
She was held on suspicion of conspiracy to rob. A man, 24, from Salford was arrested on suspicion of robbery. Both have been released on police bail, a Cheshire police spokesman said.