Rare beetle discovered at Runcorn Hill nature reserve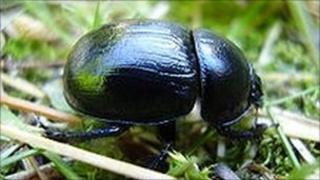 A rare form of beetle has been found on a Cheshire nature reserve.
The Dor Beetle, which is part of the scarab family which the Ancient Egyptians worshipped, was discovered on Runcorn Hill Local Nature Reserve.
It was spotted by ranger Ged Lloyd, who was collecting data for a site species list to feed into a biological database based at Chester Zoo.
Halton Borough Council said it was only the sixth time the species has ever been seen in Cheshire.
Mr Lloyd, 54, said: "It is not often one finds such a rare species for the area literally on your doorstep. It is important we log rare species to see which are endangered and how numbers are fluctuating.
"It is part of the scarab family - that the Egyptians revered - as to its disappearance, who knows, intensive agriculture, chemicals, the list is endless, according to contacts in Chester Zoo the decline is country wide."
The beetle, which is up to 2.5 cm (1in) long, is widely found in Europe but the population of the species is falling.
The beetle is lustrous and darkly coloured, sometimes with a bluish sheen.
Its body shape is very compact and arched toward the top.