Premature baby 'too small' to fly home to Merseyside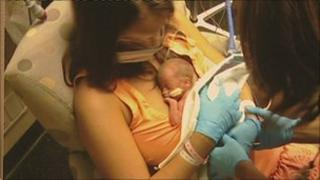 A baby who was born 12 weeks prematurely while her parents were on holiday is stranded in America with them as she is too small to fly.
Connie Maria Burton arrived while her parents Claire, 32 and Marc, 23, from Litherland on Merseyside, were in Disneyland, Florida.
She weighed 2lbs 8oz (1.1kg) when she was born by emergency Caesarian section on 4 August.
Doctors say they will consider allowing her to fly when she is 3lb 7oz (1.6kg).
Connie, who was due on 22 October, now weighs 3lb 2oz (1.4kg).
She is being cared for in an incubator at Orlando's Winnie Palmer Hospital where her parents have remained with her round the clock.
Her older brother Ciaron, eight, who was with them on the extended family holiday has flown home with Mr Burton's father.
Grandmother Maria Burton, who is at home in Litherland said: "We're just so pleased she's doing so well, but it's hard for the parents, particularly Maria as she is missing Ciaron so much and is very torn, but she has to be with Connie because right now she needs her more.
"She will be getting some of the best care in the world, and fortunately they have insurance, but they had to pay for the caesarean," said Mrs Burton.
She said: "We just got a phone call on the Wednesday evening at about 9.15 (2115BST) here.
"Marc said, 'congratulations you are a grandmother again'".
She said she was still in a state of shock and "couldn't comprehend" how small her granddaughter was, who is too tiny to fit in most premature baby clothes.