Homecoming parade for Warrington Wolves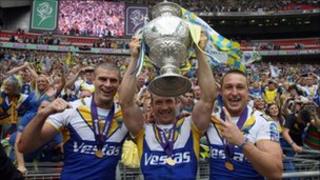 Warrington Wolves will be welcomed back from Wembley with a homecoming parade after winning the Challenge Cup for the second year in a row.
The team beat Leeds by 30-6 on Saturday, helped by a hat-trick of tries from Chris Hicks.
They will parade through Warrington on an open-top bus, starting in Woolston at 1600 BST destined for the Town Hall.
Wolves players, coaching staff and directors will then join the Mayor and Mayoress for a civic reception.
Several roads will be closed in Warrington town centre from 1500 BST onwards, including Sankey Street.