Drug warning for Creamfields festival drivers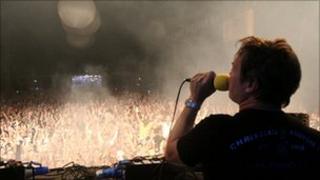 Clubbers driving to the Creamfields festival in Cheshire are being warned they face spot checks for signs of drink or drug impairment.
About 40,000 people are expected to attend each day of the two-day dance music event at Daresbury.
Cheshire Police said they took drink and drug driving "extremely seriously" and officers would be carrying out checks on roads around the site.
Meanwhile, health officials are urging clubbers to "pace themselves".
Extra police have been drafted in for the event, which gets under way on Saturday, and will be looking for signs of impaired driving.
Pc Andy Taylor, of Cheshire Police, said: "Anyone caught drink or drug-driving will be prosecuted.
"The penalties for drink driving are the same as for drug-driving - a minimum of 12 months disqualification for anyone caught driving under the influence and a criminal record.
"The message is simple - do not drink or take drugs and drive."
Isabelle McFadden, of the Halton and St Helens Health Improvement Team, said it was important to treat alcohol with respect.
"We are asking clubbers to try and pace themselves, to alternate their drinking with soft drinks and for them not mix alcohol with drugs as the consequences of doing so can prove fatal," she said.