'Lives on hold' over Ringo's home campaign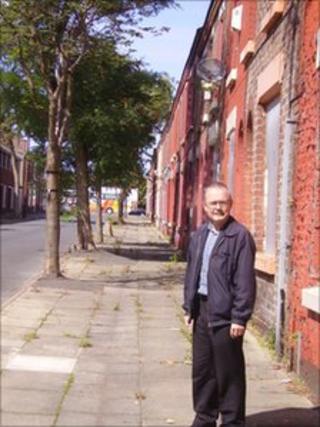 "It's a bit eerie isn't it?"
A remark made by one lone tourist marching down Madryn Street in the hunt for Ringo Starr's birthplace.
Metal sheets cover the windows and the doors are steel-clad. Demolition notices flutter in the breeze.
The only sign of life is a bird landing in one of the trees that line the derelict road, nestled behind Princes Park in Liverpool's Toxteth area.
John O'Sullivan, a postman from London, is here for the bank holiday weekend and Ringo's first abode is the last part of his Beatles' tour.
Little does he know that this tiny terrace has been no-man's land in a divided community for the past five years.
It is one of the Welsh Streets, a number of roads earmarked for demolition. They were built in the late 19th century when an influx of Welsh came to live and work as dockers.
The focal point is 9 Madryn Street where Ringo Starr, born Richard Starkey, entered the world in 1940.
'Mindless vandalism'
"I've seen all the Beatles' homes, and well this is a bit of a disappointment," Mr O'Sullivan commented. "I suppose it has some historical significance."
This is what many avid Beatles fans believe.
The latest action group, fronted by Ringo Starr lookalike Max Frudd, is The Save Madryn Street (SMS) campaign which says it would be "mindless municipal vandalism" if the terrace was to go.
However, those who live or have lived in the 16 Welsh Streets have no such empathy for Ringo's birthplace.
They say it is outsiders using the term "historical significance" to prevent much-needed regeneration in the area.
Mary Huxham, 72, lived in Powys Street for 68 years. She was not sorry to see the back of it.
"We lived with rising damp, fungus, ice on the inside of the windows and outside toilets.
"I brought up four children in these horrible damp conditions. We want the streets to be demolished and modernised."
'Rat-infested'
She is one of the hundreds who have left. She now lives in one of the new homes nearby.
"When I heard of a new campaign being launched to save Madryn Street, I just felt despair. Here we go again I thought."
Liverpool City Council first put demolition notices up in 2005. The area was going to be regenerated, those living in not-fit-for-purpose homes would be moved.
Lisa McCoy, 29, a pregnant mother of two, wants to be out of nearby Treborth Street by the time her new baby arrives.
"We can't have the kids playing out because it's too dangerous for them. The streets are infested with rats and rat poison is everywhere."
The terraces on the Welsh Streets have no foundations. The city council said to refurbish Ringo's home alone would cost about £200,000.
The council remains adamant that the white well-kept home in nearby Admiral Grove should be the place for Ringo fans to pay homage.
"We cannot put people's lives on hold as we discuss the merits or otherwise of preserving a house that Ringo lived in for just a short period of time.
"Although Ringo was born in the property he spent his formative childhood years in nearby Admiral Grove, which is still standing and being lived in today, and unaffected by the plans."
The bulldozers are expected next month.