Merseyside bus drivers begin four-day strike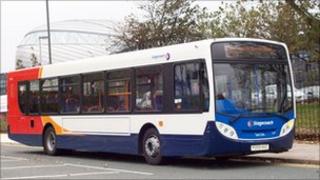 Hundreds of bus drivers on Merseyside are starting four days of strike action in a dispute over pay.
The walkout is threatening to hit one in five of the city's buses during the Mathew Street Festival this weekend.
Stagecoach says it will draft in about 100 extra drivers and vehicles from across the UK and hopes to operate as near a normal service as possible.
Ritchie James, the regional industrial organiser from Unite, said bus drivers should be better rewarded.
'Good offer'
"Bus drivers aren't the best paid people, like everybody else they are suffering with the increased rate of inflation of over 4.5%.
"In my view workers should be rewarded for their contributions.
"Two percent may be, in some people's minds, an adequate settlement. But I have to remind you that some people have given up significant amounts of their contracted employment just to achieve the levels of pay they are on now."
A spokeswoman for Stagecoach Merseyside said: "We are doing everything we can to ensure minimum disruption for our passengers during this unnecessary strike.
"We have extra resources in place to allow us to run most daytime services as normal and we expect this to continue throughout the strike period."
She added: "We have made a good pay offer, particularly in view of the current economic uncertainty, and we believe the public would join us in urging the union to see sense and put the people of Liverpool first by calling off this strike."