Wife killer Eddie Gilfoyle launches third appeal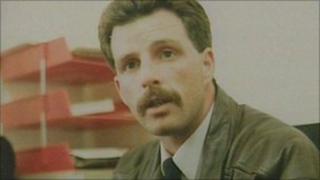 Lawyers for a man jailed in 1993 for killing his heavily pregnant wife have launched a bid for a third appeal.
Eddie Gilfoyle, 48, was convicted of murdering his wife Paula, who was found hanged in the garage at the couple's home in Upton, Wirral, in June 1992.
Prosecutors claimed he fooled the 32-year-old into writing a suicide note before hanging her. He has lost two appeals against his conviction.
The Criminal Cases Review Commission (CCRC) is reviewing the application.
Gilfoyle's first appeal was referred to the Court of Appeal, which upheld the original conviction, but the second was not.
At the Falklands veteran's original trial, evidence from the prosecution maintained that it would have been virtually impossible for Mrs Gilfoyle to loop the rope over the beam without help.
But his legal team have fresh testimony from a rope expert which they say contradicts the claim, describing it as "hugely significant".
The testimony forms part of a body of evidence prepared by Gilfoyle's solicitor, Matt Foot, from the practice Birnberg Peirce.
Mr Gilfoyle's sister, Sue Caddick, 52, said she was pleased with the latest development.
"We've just always said the fight goes on," she told BBC News.
"We're pleased it's gone forward, we're hoping this time they do overturn the conviction... and we get him home.
"I see it as another part of the battle we are in to make them do the right thing."
Asked how her brother felt about the latest development, she said: "He's quite good.
"He's hopeful and this time we want the truth to come out, and we hope the truth does come out."
At his trial, the prosecution argued that Gilfoyle had persuaded his wife to climb a ladder in their garage with a noose around her neck.
The noose later went missing and was never tested for DNA.
Gilfoyle, who has spent 18 years in prison, has always protested his innocence. He believes his wife committed suicide.
Last year Alison Halford, 67, who was assistant chief constable of Merseyside Police at the time of Mrs Gilfoyle's death, said she believed there had been a "huge miscarriage of justice".
The CCRC confirmed that it would review the latest evidence submitted by Gilfoyle's lawyers.
"I can confirm that we have received an application for Mr Gilfoyle," said a spokesman.
"We will now begin looking at the application and considering the issues that it raises."
The CCRC can refer cases to the Court of Appeal if new evidence or legal argument raises a realistic possibility the court would overturn the conviction.
Merseyside Police said they had not been involved in the latest development and could not comment.