Ship building resumes at Birkenhead's Cammell Laird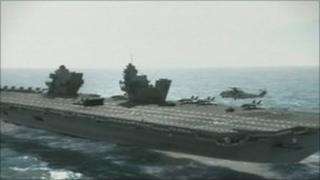 Ship building has returned to the banks of the River Mersey, as work begins on an aircraft carrier at Cammell Laird.
More than 350 people are working on the HMS Queen Elizabeth, at the Birkenhead ship yard. It secured the £44m Ministry of Defence contract in January.
Minister for International Security Strategy, Gerald Howarth, was visiting Cammell Laird to mark the start of the new project on Monday.
Nearby, Camilla, Duchess of Cornwall, will board the Queen Victoria.
It is an important occasion for the ship building company, which in 2000, after nearly two centuries of global success, went into insolvency when several major projects failed to materialise.
'Skilled workforce'
With the last shipworkers leaving the site in 2001, its future looked bleak.
However, after being bought by Reddington Finance in 2004 it was sold to Peel Holdings three years later and formed part of the firm's regeneration plan.
The 52-hectare site has been restored and revamped by the development company and important contracts secured from the Ministry of Defence.
In 2008 it won a naval contract and then in January 2010 it was awarded the HMS Queen Elizabeth project.
Aircraft Carrier Alliance (ACA), which ensured Cammell Laird was awarded the shipbuilding contract, said it was "great news for the region and a testament to the skills of the workforce on Merseyside".
William Laird founded the Birkenhead Iron Works in 1824 and by 1828 it was making ships.
Cammell Laird will work on the warship until December 2012.