Ugandan Asian family remembers 1972 expulsion by Idi Amin
By Abbie Jones & Rumeana Jahangir
BBC News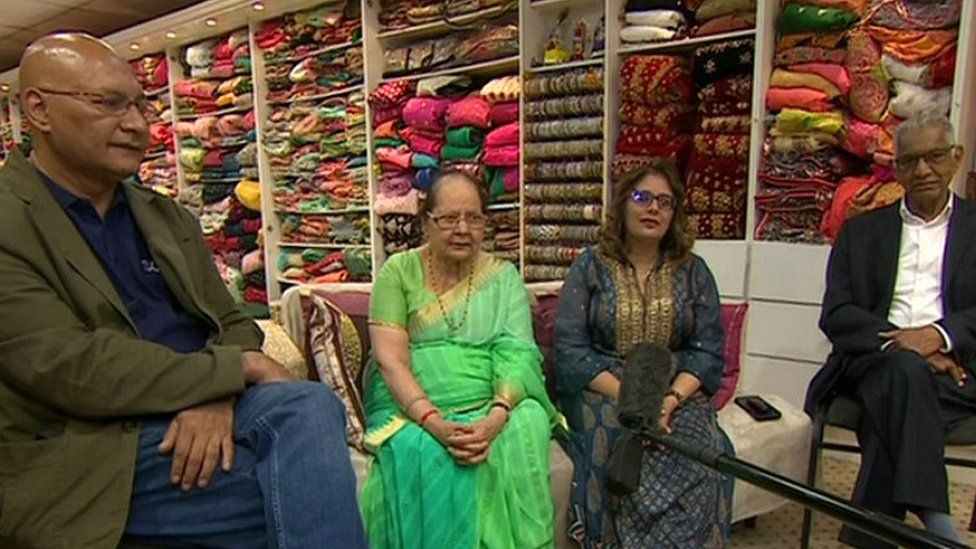 A Ugandan Asian family who set up one of the UK's first sari department stores has been recalling their experiences on the 50th anniversary of their expulsion by dictator Idi Amin.
Nila Raja remembers only having £50 when she fled with her three children.
She rebuilt her life in Bolton, where she and her family remain.
Her son Shelley Raja remembers that he and his siblings "cried for six months because of the cold; we just couldn't handle it".
At the time, Ugandan Asian people owned 90% of the country's businesses and accounted for the same share of Ugandan tax revenues.
Mr Raja said: "My grandad was a manager of a beer factory. We had a big house, we had servants, we had everything."
He remembers his uncle meeting them at London's Heathrow Airport "with the old 70s dufflecoats".
"We were freezing, we were absolutely cold."
His sister Sital Raja-Arjan remembers nursery staff suggesting she watched Top of the Pops and Coronation Street to pick up English language skills.
"Before I knew English, I could sing any Abba song," she joked.
Families like the Rajas were dispersed across Britain.
While some families experienced racism, the children's uncle Mahendra Raja described the reception his family received in Bolton as "beautiful".
"People around helped me set up what we have today and the local community was the most helpful."
The family now also owns a computer business, accountancy firm and nursing homes.
Ms Raja-Arjan describes her mother and uncle as "heroes", adding "not all superheroes have capes - they've done us really proud".