Tom Parker: The Wanted star's mum leads tribute walk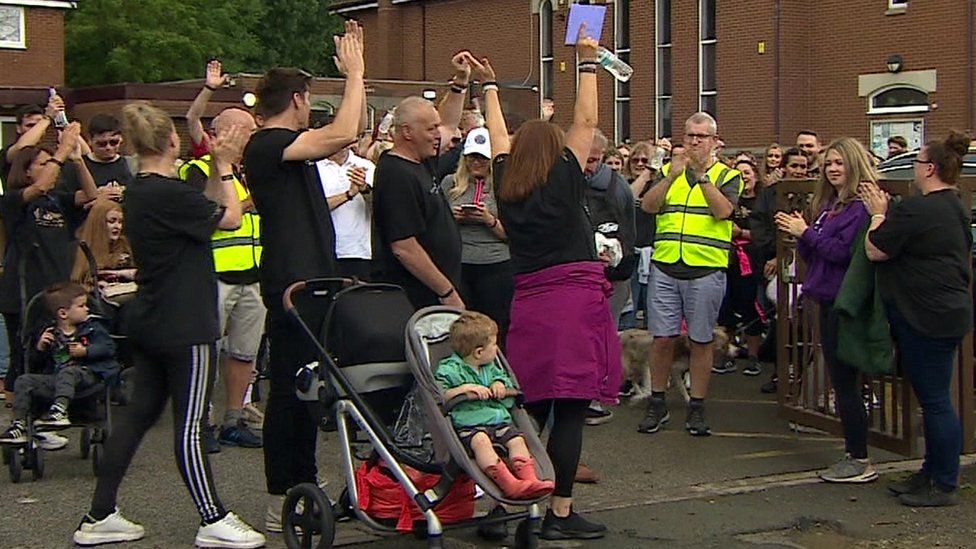 Hundreds of people have walked through the Bolton hometown of The Wanted singer Tom Parker to raise money for brain tumour research.
His mother Noreen Parker said: "I've been very touched by the number of people that have come forward."
The 5km walk included key locations in her son's life, including his primary school, a local park and a bar where he won a karaoke contest at the age of 17.
Held ahead of his birthday on 4 August, the tribute raised funds for the Ahead of the Game Foundation charity, which supported the singer following his diagnosis.
Ms Parker previously said: "Throughout his illness, Tom had the privilege of having other therapies to help and support him live two years, allowing him to achieve all the things he did and gave him hope and positivity throughout."
Her son achieved fame as a member of boyband The Wanted, reaching number one with the singles All Time Low and Glad You Came.
It followed a rejection from ITV talent show The X Factor when he was aged 16 that he said had "shattered" him.
Parker married Kelsey Hardwick in 2018, who gave birth to their second child following his cancer diagnosis.
He told the BBC he did not want the condition to "consume my life" ahead of an Albert Hall concert he had organised for cancer charities.
Before his death, he performed in a reunion tour with The Wanted and wrote a bestselling autobiography called Hope.
Tom Parker was diagnosed with a tumour known as a glioblastoma
Symptoms include seizures, nausea, mental or behavioural changes, weakness or paralysis on one side of the body, and vision or speech problems
Charities say brain tumours can kill more people under the age of 40 than any other cancer, however only 1% of the national spend on cancer research has historically been allocated to the disease
Parker called for more research into brain tumours at a parliamentary meeting in Westminster in December