Bluedot: Astronaut Tim Peake's star turn tops festival's return
By Chris Long
BBC News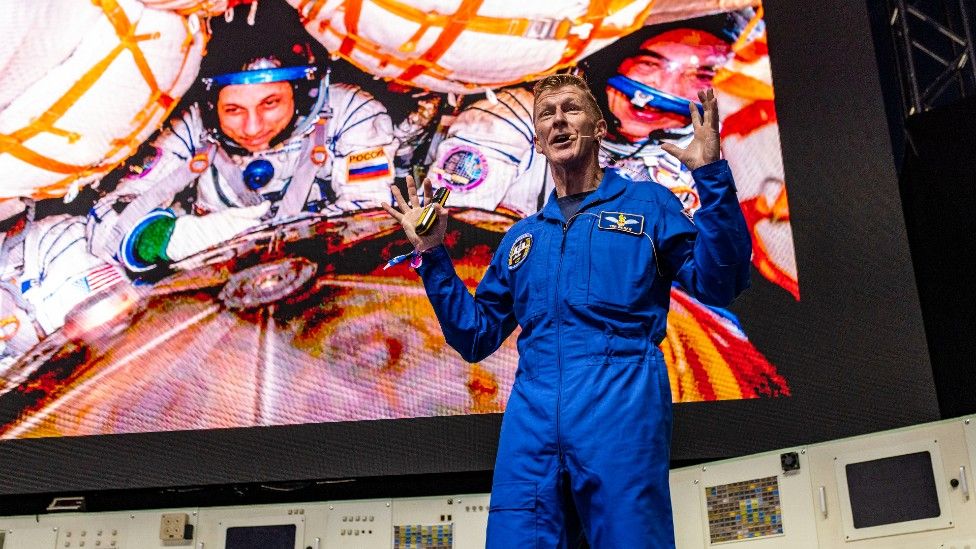 Astronaut Tim Peake's tales of space travel, Top Gun inspiration and extreme training provided the star turn as Bluedot returned after two years away.
The festival, which takes place under Jodrell Bank's iconic Lovell Telescope, had to be cancelled in both 2020 and 2021 due to Covid restrictions.
Its triumphant return had a myriad of eclectic delights, musical highlights and more than a little rain.
But it was the much-loved astronaut's charm and cheer which stole the show.
His crowd-pleasing appearance on Saturday afternoon would not have come as a surprise to anyone who knows the festival well.
Twenty-four hours earlier, in a suitably shambolic and engagingly entertaining recording of the A Problem Squared podcast, comedian Bec Hill referred to the event as the "ultimate nerd fest" and many of those who attended would cheerfully agree.
Bluedot may have impressive headliners on its musical stages, but it is as much about the science as it is the songs.
So while some may have come for Groove Armada, who bounced a large majority of those on site along on Friday night, or the heavenly Bjork, who bathed Sunday evening in beauty and wonder with the help of the Halle Orchestra, many would have also seen a double appearance by Prof Jim Al-Khalili or his fellow celebrity physicist Prof Brian Cox as a reason to leave the campsites.
And at times, it did feel like there needed to be a good reason.
On Sunday, as showers swept relentlessly across the Cheshire Plain, it seemed to be as much about endurance as enjoyment.
Halfway through Sea Power's guest appearance opening the final day's festivities, singer Yan looked out on the crowd and declared them all a "friend of the kagoule".
"You're handling this weather well. You're either a Sea Power fan or just from up north," he added.
Many made their way to shelter, but even that was to little avail, as half the audience avoiding the elements and attentively hanging on Prof Al-Khalili's extolment of the scientific method still felt the rain being blown horizontally into the tent.
Such concerns melted away though, when the British Antarctic Survey team called in on Zoom from the icy polar regions - sometimes, you really do get an instant reminder of how easy you have got it.
And spirits never really dampened across any of the stages, be them filled with songwriters, scholars or stand-up.
Just ask those who packed themselves into, alongside or near the Orbit tent to bounce along to the raucous brilliance of Yard Act or to throw shapes to the passionate and pummelling Kelly Lee Owens.
Or those who booed the poor stagehand who reminded Adam Buxton that Bug, his supremely hilarious presentation of music videos and their subsequent YouTube comments, was vastly over-running and had to come to an end. No doubt, they would have happily taken another three hours of it.
Or even those who decided to walk a different path through the festivities, who swapped a superb Saturday headlining set from Mogwai to see the acerbic and hilarious Stewart Lee present King Rocker, his truly special documentary about songwriter Robert Lloyd, or swapped Friday's big names for upcomers and unknowns on the Nebula stage and were treated to the rolling soulful jams of the superb Secret Night Gang.
But above it all, in so many ways, was Major Peake.
Bounding on stage to one of the weekend's biggest cheers from a crowd that was at least as large outside the huge tent as it was in it, he grinned from ear to ear.
"They told me to start with a song, a joke or a story about space," he smiled.
"But I'm not Chris Hadfield and I was in the Army for 18 years, so my jokes are old and probably not suitable, so space it is."
And true to his word, space and everything that led to it was what followed.
An enthralling hour went from him being inspired to become a pilot by the original Top Gun film through to gazing back down on Earth from the International Space Station's Cupola observatory, from weightlessness leading to him losing his sense of smell to his days of doing loops in helicopters, and from looking back at his time off the planet to the possibilities of the future missions to the Moon and Mars.
For the first time, he was tight-lipped, only willing to say there would probably be a European Space Agency astronaut joining two of NASA's on the mission, before, in a moment that drew the sort of wild applause only usually given to headlining bands at festivals, he beamed his trademark grin.
"However," he said with a delightful twinkle, "let's keep that rumour going".
Related Internet Links
The BBC is not responsible for the content of external sites.