Altrincham Hospital must reopen injuries unit soon 'to stop rumours'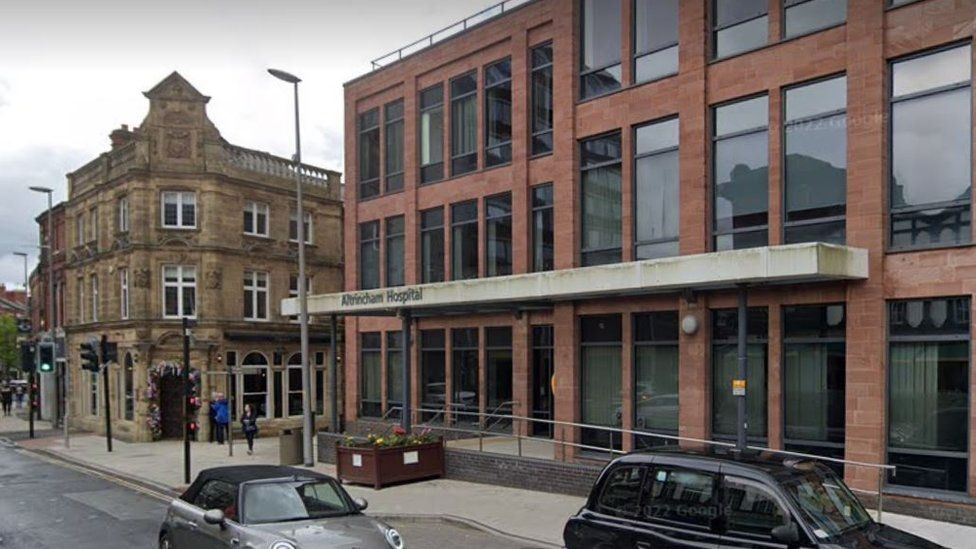 A minor injuries unit must reopen soon to allay "local suspicion" it may never happen, a councillor has said.
The service at Altrincham Hospital have been suspended since November 2021 because of staff shortages.
Trafford Council's Health Scrutiny Committee chairman Michael Whetton said there was "a nervousness" in the town about the future of the unit.
The trust running the site said it was committed to reopening as soon as possible.
Manchester University NHS Foundation Trust (MUT) has previously said a shortage of emergency nurse practitioners and the impact of Covid-19 meant the unit would remain shut until at least August.
Since the closure, the majority of minor injuries, such as fractures, have been dealt with at Wythenshawe Hospital, which lies about 3 miles (5km) away.
The Local Democracy Reporting Service said Mr Whetton told Tuesday's committee meeting that he wanted to discuss a report on the latest situation "because of local concern".
"I know the NHS would prefer it to be dealt with later in the year, but I wanted to kick it off at this meeting," he said.
MUT's director of strategy John Wareing told the committee the trust was seeking to "reopen the unit as soon as possible".
He said the trust was working to resolve the situation, but added that whatever it provided, its facilities needed to be "safe and effective".
"We want to make sure there is clarity in terms of what people can expect," he added.
Mr Whetton said this assurance showed that bringing the issue to the committee "was the right thing to do".
"There is a nervousness among the public," he said.
"Altrincham is several miles from other locations that are options for someone who is in need of help."
He added that people in the town had "become suspicious and when that is coupled with rumour, it can fill a void".
"It would be good to see some communication going out to the public [as] this at least give them some comfort."
MUT has previously said a "detailed options appraisal" had begun into which services can be provided from Altrincham Hospital without having to rely on the specialist nurses, while also maintaining "safe and sustainable" services for patients.
Related Internet Links
The BBC is not responsible for the content of external sites.