St Ann's Hospice 'in danger of closing' over £2m funding gap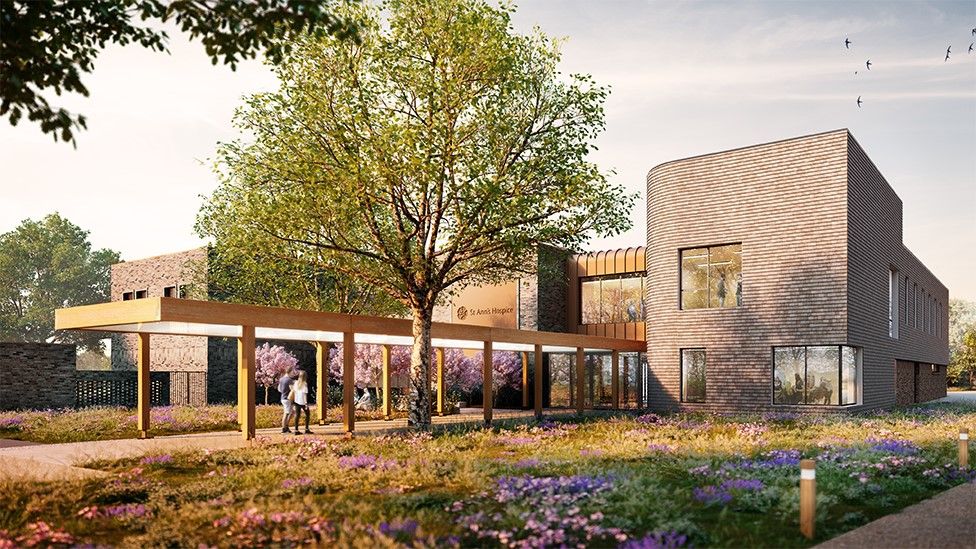 A hospice which is "in real danger of having to close services" after falling short of funding to build a new site to replace its decaying building.
St Ann's Hospice in Heald Green, Stockport, said it was £2m short of the £21.5m needed to build a new facility.
Chief executive Rachel McMillan said staff "simply can't continue to care for people in our current building", which is more than 150 years old.
The charity has launched a public appeal to raise the remaining money.
The hospice's project will see the current building on St Ann's Road North replaced with an eco-friendly facility on neighbouring land, which would open by 2024.
A spokeswoman said the new site would be a regional centre of excellence to train other healthcare teams in providing the best end-of-life and palliative care.
She added that it would house a 27-bed inpatient unit, including 21 en-suite bedrooms with access to outdoor terraces, and outpatient, day therapy, bereavement and family support services.
Ms McMillan said if the hospice was not open, "patients simply wouldn't be able to access specialist care [at] one of the most vulnerable times in their life".
"We simply can't continue to care for people in our current building," she said.
"We're in real danger of having to close services if we don't complete this project."
The appeal for funding has been backed by ex-Coronation Street actor Lee Boardman, whose sister Suzy received end-of-life care at the current site before her death in 2014.
He said she had "urgently needed more specialist care and support than we, her family, could provide" and the hospice staff had been "amazing".
"Within four hours, St Ann's had lifted the weight we'd been carrying for so long off our shoulders," he said.
He said his family would be "forever indebted" to the hospice, adding: "We have to save St Ann's. It's an absolutely necessity."
Related Internet Links
The BBC is not responsible for the content of external sites.