Ed Sheeran lookalike mobbed at Ed Sheeran's Manchester gig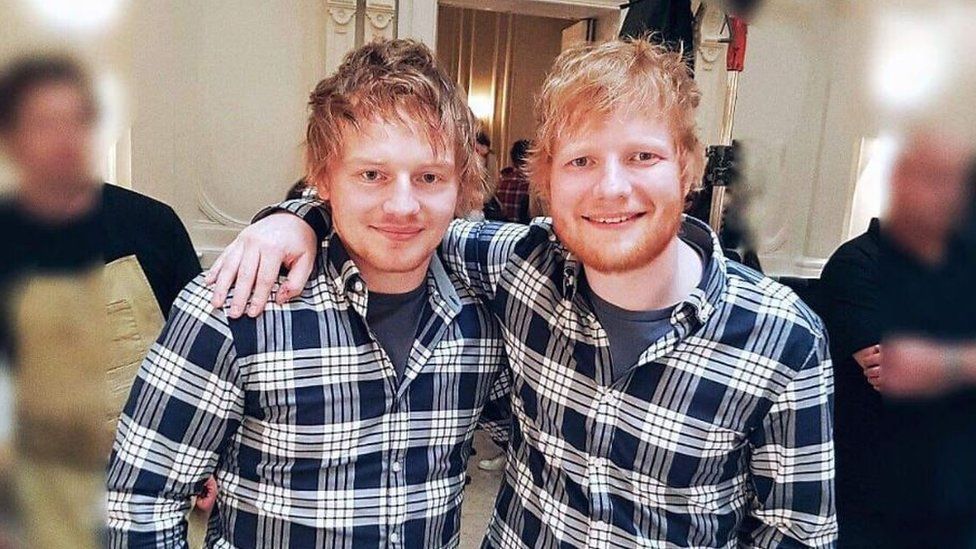 An Ed Sheeran lookalike was asked to move for his own safety at one of the singer's recent gigs after becoming mobbed by selfie-seeking fans.
Wes Byrne, a binman from Oldham, was surrounded during the concert at Etihad Stadium in Manchester, resulting in the aisles being blocked.
The 30-year-old, who was delighted to be upgraded to executive seats, said he was often mistaken for the singer.
"I get asked for selfies a lot but I wasn't expecting that," he said.
"Once the first person asked for a selfie that was it, people were blocking the stairs and security said it was a fire risk."
Wes, who was at the concert with his sister Sammy and eight-year-old nephew AJ, said he was "buzzing" when they were moved to the VIP area.
"Most people knew I was a lookalike, but they just wanted a picture with me, although I do think a few kids thought I was the real Ed, but I wasn't going to ruin it for them."
It was not the first time Wes has been mistaken for the singer.
When Sheeran was first breaking into the music scene, Wes said he once had to show his passport to a convince a drunk music fan on a night out he was not him.
"At first I didn't even know who they meant because Ed wasn't famous then, but people were insisting I was this guy," Wes recalled.
After being stopped "almost every day" for selfies in 2018, he was approached by a lookalike agency and gained work as a Sheeran double in a 2019 Heinz advert.
"I stood in for him for all the back-of-the-head and side shots," he said. "I got to meet him too which was brilliant."
Wes said he would continue to do lookalike work in addition to his job as a binman for "as long as it lasts" and said "anything I get goes towards the mortgage.
"As long as he is famous and people are asking me for selfies I'll just go along with it. I don't worry about it, I'm just rolling with it."