Stockport police inspector pauses council meeting to chase shoplifter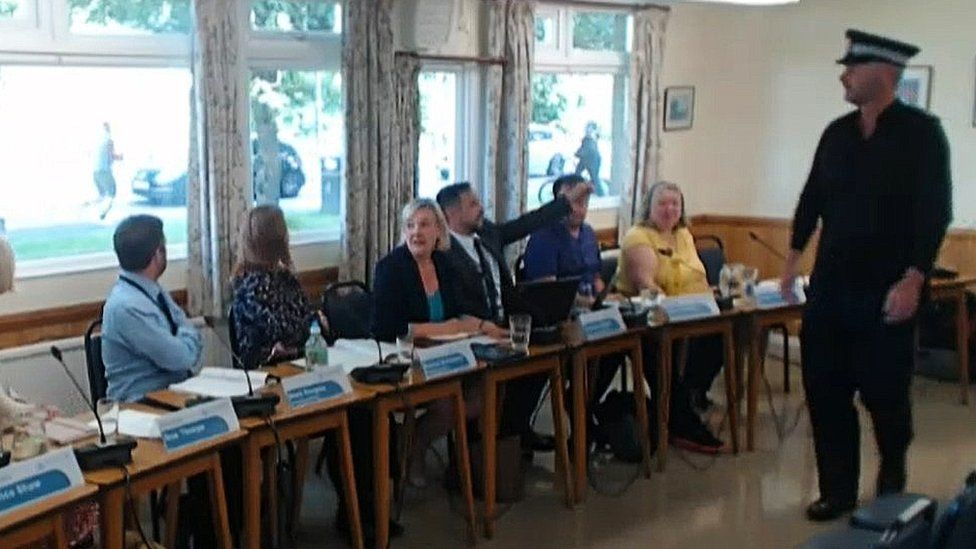 A council meeting was dramatically interrupted when a senior police officer dashed from the room to chase a suspected shoplifter.
The alleged thief was spotted running away with goods from the Iceland store near Woodley Civil Hall in Stockport.
Insp Shaun Flavell had been fielding questions from councillors at Monday's meeting when the man ran down the road with a staff member in hot pursuit.
"Look after my stuff," Insp Flavell told councillors before chasing him.
Councillor Lisa Smart, who was chairing the Werneth area committee meeting, told the Local Democracy Reporting Service: "I do not recall anything like that happening during a council meeting before.
"We're very happy to have police come and certainly we were not expecting a crime to take place, visibly from the meeting room."
However she said it was "genuinely good" to have a police inspector come to a public meeting to talk to the community about crime prevention.
"I think it goes to show the value of having meetings in the community that we were elected to represent and that the neighbourhood policing team serve."
Before being called into action, Insp Flavell had been answering questions about the potential for a community speedwatch scheme.
A spokesperson for Greater Manchester Police said the alleged offender dropped the stolen goods and no arrests had been made. Inquiries continue.
Iceland has been contacted for comment.