Manchester Airport queues 'a shambles', say angry passengers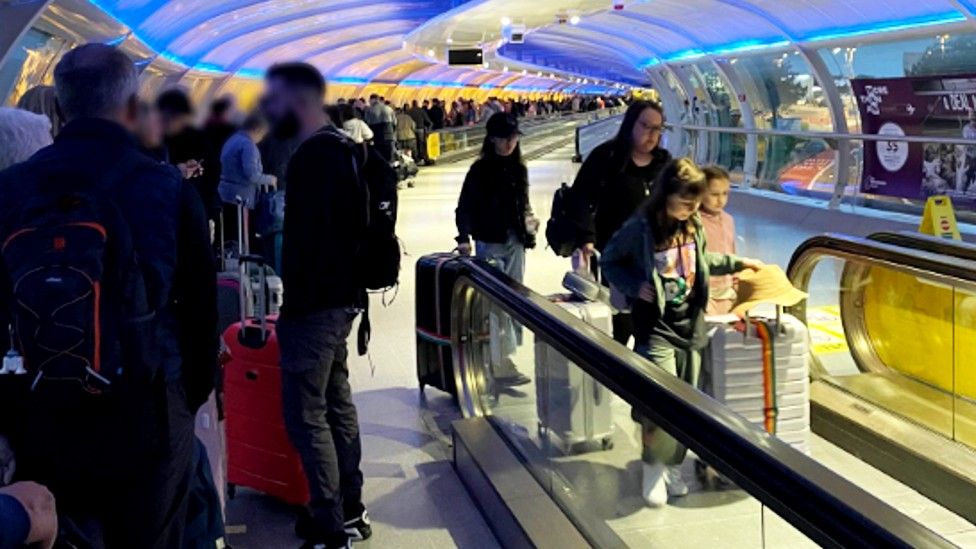 Angry passengers have again faced long queues at Manchester Airport, with some describing the conditions there as a "shambles" and "utter chaos".
Magician Martin Daniels said it took him 90 minutes just to reach the check-in desks, with "people panicking".
Manchester Airport apologised for the inconvenience, acknowledging it took some people an hour to get through security earlier on Tuesday.
The airport has blamed staff shortages and a post-pandemic spike in demand.
Mr Daniels, son of the late magician Paul Daniels, said he was trying to catch a flight to Palma to work on a cruise ship for five days.
"I was worried I was gonna miss my flight," said the 58-year-old. "The queue stretched way out of the terminal.
"Thankfully they got things moving. But a lot of people were panicking."
Other passengers also vented their anger.
Mhari Oaks described the airport as "absolute chaos" and "hell".
Hell on earth this morning @manairport - avoid it like the plague!!! Everyone missing flights despite getting there 3 hours before departure. Absolute and complete chaos. No check in staff.

— Mhari Oakes (@Mhari_Oakes) May 24, 2022
Sarah Thompson, who was stuck in a queue at 05:00 BST, said: "T2 Manchester Airport security lanes are long. Forty minutes and counting.
"Definitely need a 3 hour check-in this time of day."
Meanwhile Ozzy Hamid described the airport as "absolute carnage" at 06:00 and feared missing his flight.
Absolute carnage once again at @manairport. Security queues and no staff to help, flight leaves in 40 minutes

— Ozzy Hamid (@ozzyhamid) May 24, 2022
Travellers have faced long queues for check-in and security at various airports across the UK since the middle of March.
A Manchester Airport spokesman said: "We apologise to any passengers whose experience at Manchester Airport this morning was not how they would like it to be.
"As we continue to recover from the pandemic, we continue to advise customers there may be some times when security queues are longer than usual, which is why we advise people to arrive three hours before their flights."
Related Internet Links
The BBC is not responsible for the content of external sites.