Manchester Arena victim Nell Jones's mum feels 'trapped in bubble'
By Kelly Foran & Jenny Coleman
BBC News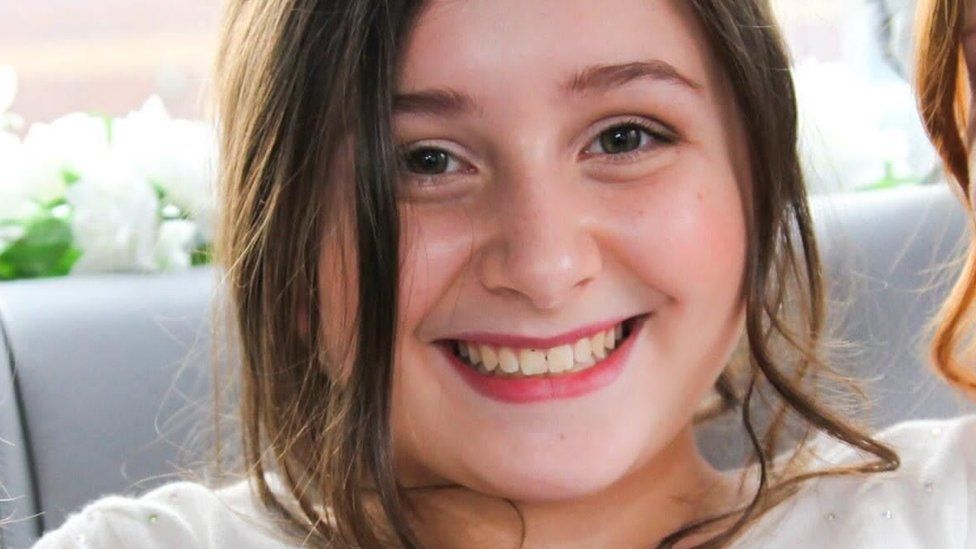 The mother of a 14-year-old girl who died in the Manchester Arena bomb said she still feels "trapped in a bubble" as the fifth anniversary approaches.
Nell Jones, of Holmes Chapel, Cheshire, was one of 22 people killed at the end of Ariana Grande's gig on 22 May 2017.
Her mother Jayne Jones said "real life is running alongside" her own grief.
"Outside that bubble, life is carrying on," she told BBC North West Tonight, adding: "Suddenly you think it's five years. Nell's never out of my mind."
Mrs Jones, 60, described how her grief has evolved.
"It's like my body won't - and my brain won't allow me to - go too deep," she said. "If I went too deep it's a long time crawling back out of it again.
"You do deal with it, you cope with it, but it still doesn't seem real that she's not there."
She described her daughter, who would have turned 19 last month, as a "blessing" and that she would have wanted her legacy to be one of encouraging "kindness and understanding".
"It was hugs with Nell, not fighting," said Mrs Jones. "Just a hug made everything better."
In 2018 the family set up The Remembering Nell Foundation with the aim of helping children and young people in the north west of England.
"A lot of the things that we do... we are spurred on to do because Nell would have wanted them," her brother Sam explained.
"You think: 'Well, I'm going to do this because Nell hasn't got the opportunity to do it.'"
The 34-year-old said it was with "tremendous sadness" that the family can never see the fine woman Nell would have become.
"If she'd have carried on the trajectory that she was following, then I think she'd have been a pretty amazing person," he said.
"It's sad and it is disappointing that we'll never get to find that out."
Related Internet Links
The BBC is not responsible for the content of external sites.