Manchester Arena bomb family 'living the best lives they can'
By Becky Holmes & Lauren Hirst
BBC News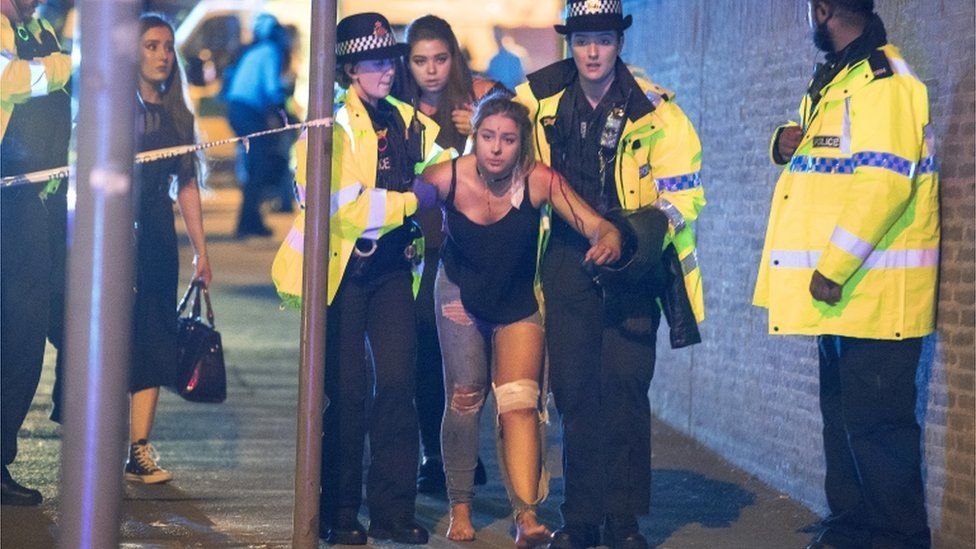 Eve Senior may still bear the scars of the blast on that awful night at Manchester Arena.
But on the fifth anniversary of the suicide bombing which claimed 22 lives and injured hundreds more, she is determined to be a force for good in this world and to repay the kindness and support she has been shown ever since.
Eve's photograph, taken as she emerged from a police cordon in the aftermath of the bomb, became one of the defining images of the atrocity, capturing the horror of what had happened at the end of Ariana Grande's concert.
Half of the then 14-year-old's jeans had been cut off by paramedics and Eve, who suffered 18 shrapnel wounds, needed help to walk as she was led away by two police officers.
Eve, along with her mum Natalie and sister Emilia, had travelled to Manchester from their home in Bradford, West Yorkshire.
They were standing in the arena foyer, just yards away from the bomber when he detonated his home-made device.
Eve is still receiving treatment for her injuries and is currently undergoing plastic surgery to help with the scars.
But the care the now 19-year-old received while in hospital has left a lasting impression too.
Encouraged by the kindness and support shown towards her, Eve is now studying to become a children's nurse and hopes to qualify within the next three years.
"So that's something really positive [to come out of something so negative]," said Eve, who was also inspired by three trainee nurses who helped her on the night.
For her 18th birthday, she met them, with each getting a bee tattoo.
In the days after the bomb, images of the bee were everywhere in Manchester as a symbol of unity and strength.
Eve's mum Natalie suffered seven shrapnel wounds and has also needed ongoing treatment.
Her little sister Emilia, 11 at the time, suffered hearing damage in her left ear.
She has also struggled with feelings of guilt.
"I've always kind of burdened myself with... when they were in operations, the fact that I was still walking round," she said.
"I could still use both my legs and I could get out of bed in the morning and do what I wanted to do.
"It was always really hard to be such a young age and see all of the hurt and pain that could be inflicted on the people you love the most."
Five years on from the Manchester Arena attack
Natalie has decided to retrain in mental health nursing after working in her family business for 17 years.
"I met some wonderful consultants and people along the way," she said.
"One day I was sat in a children and young people's mental health services meeting with one of the girls and thought 'do you know what? I think I could probably do this job'.
"I think it's something that I would find really rewarding.
"It is a complete career change and I must be mad at my age but that's what I'm doing and it must be driven and still is driven by everything that happened in 2017."
Helping others runs in the family: Emilia is working as a childcare apprentice as well as volunteering at her local youth club.
"I'm really, really proud of us all, but you also always have that pull-back that you were extremely lucky and there's others that weren't as lucky that night," said Natalie.
"There are families out there that can't celebrate the things that I am able to do, and that's tough.
"That's probably one of the hardest things to deal with... trying to make positives out of a massive negative and live the best lives that we can as a family."
"Make things better in the world if we can."
If you're affected by the issues in this piece, you can find support from BBC Action Line.