Painter's mountain wallpaper works go on show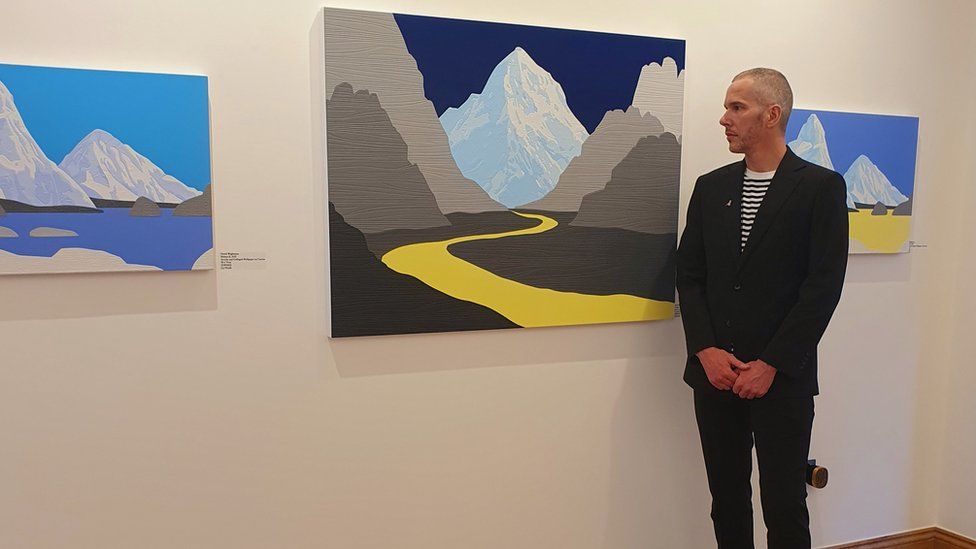 A painter who transforms wallpaper into striking mountain landscapes is to have his works exhibited in London.
David Wightman, 41, uses hundreds of wallpaper pieces to form the base of brightly-coloured nature scenes.
The Stockport-born artist said as a child he would dream of the stunning vistas of the nearby Peak District while sitting in his bedroom "staring at textured wallpaper".
He said he strived to "create something beautiful using maligned material".
Living in a working-class household, he said he found joy in climbing the famous peaks of Mam Tor and Kinder Scout.
The painter said: "I think the juxtaposition of the nearby peaks and the working-class culture I grew up in had a profound effect on me."
"I had always thought of mountains as a symbol of escapism, idealism and aspiration," he added.
After moving to London to study art, Mr Wightman found a roll of textured wallpaper in a college cupboard.
"It immediately reminded me of home," he said. "The material for me is sentimental and nostalgic."
It was then that he decided to incorporate wallpaper into his landscapes.
Mr Wightman said he begins each piece by imagining and painting a "cartoon" of a scene before collaging the surface with hundreds of pieces of wallpaper.
He described it as a "meditative process", which could take many weeks to complete.
The works are now on show at Grove Square Galleries in London until 14 May.