Police Tasers: Training needed after use on man near son, watchdog says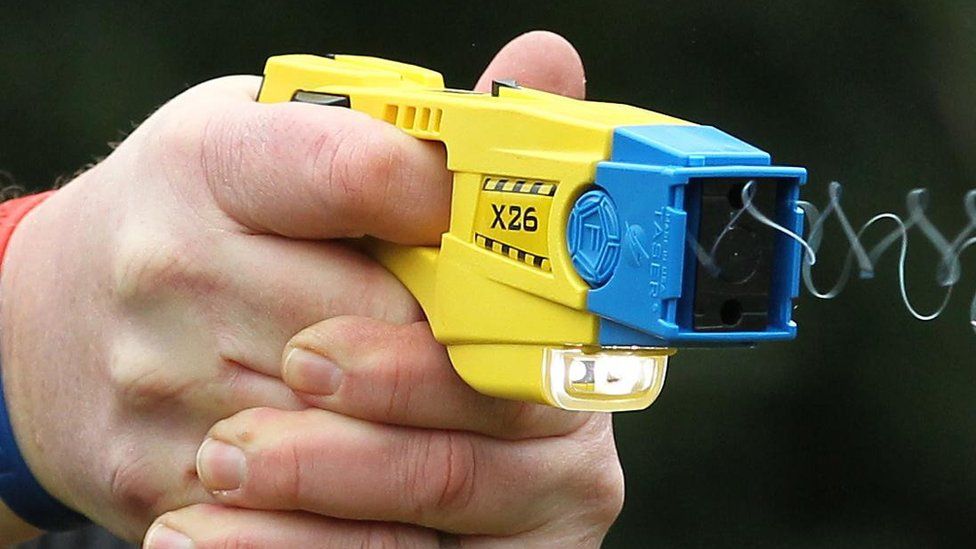 An investigation into the use of a Taser on a man in front of his five-year-old son has recommended "specific" training must be given on police discharging them in a child's presence.
Desmond Mombeyarara's child was with him when Greater Manchester Police (GMP) officers Tasered him in 2020.
Mr Mombeyarara was approached by two GMP officers on a garage forecourt in Stretford on 6 May 2020.
Footage of the incident, which was shared widely on social media, showed him standing next to a marked police car and putting down his crying son minutes before a Taser was fired by one of the officers.
The officer went on to use the device seven times and the 34-year-old was seen to fall to the ground, while his son was heard shouting "Daddy".
The IOPC said the officers suspected Mr Mombeyarara was intoxicated and he had not complied when they tried to breathalyse him.
He was later handed a conditional discharge for 18 months and a fine of £420 at Manchester Magistrates' Court after he was convicted of resisting a constable in the execution of their duty.
He was also sentenced for speeding and no insurance while offences of drink-driving and breaching Covid restrictions were dismissed.
The watchdog previously found Mr Mombeyarara's ethnicity had no bearing on the officers' use of force and the officers involved had acted "in line with guidelines".
However, in a final report on the case, it found "learning" over "frequent references to a person's strength or size when justifying use of force", which could "align to commonly-held stereotypes" and recommended GMP take steps to ensure any response was "not being unreasonably impacted by stereotypical assumptions" about black, Asian or minority ethnicity people.
The watchdog said the force must provide "publicly available guidance on when the Tasers may be used" and clarify when it was "appropriate" to use them near "a flammable substance".
It also said GMP should "update local Taser training" and the College of Policing should "amend national training for officers equipped with Taser to include considerations when a child is present".
IOPC regional director Amanda Rowe said the "deeply distressing" arrest had caused "significant concern within the local community" and the public needed "to be reassured it is being used appropriately".
"The disproportionate use of Taser against black people, which is seen nationally, means it is especially important for the police to be able to justify the use... in cases like this," she said.
"While the evidence... showed officers had acted in accordance with the relevant policies, guidance and procedures, we identified ways the force could improve the response to similar situations in future and welcome the progress made to address them."
Acknowledging the report, a GMP spokesman said it would be "inappropriate to comment further" due to ongoing proceedings.
Related Internet Links
The BBC is not responsible for the content of external sites.