Greater Manchester Clean Air Zone plans put on hold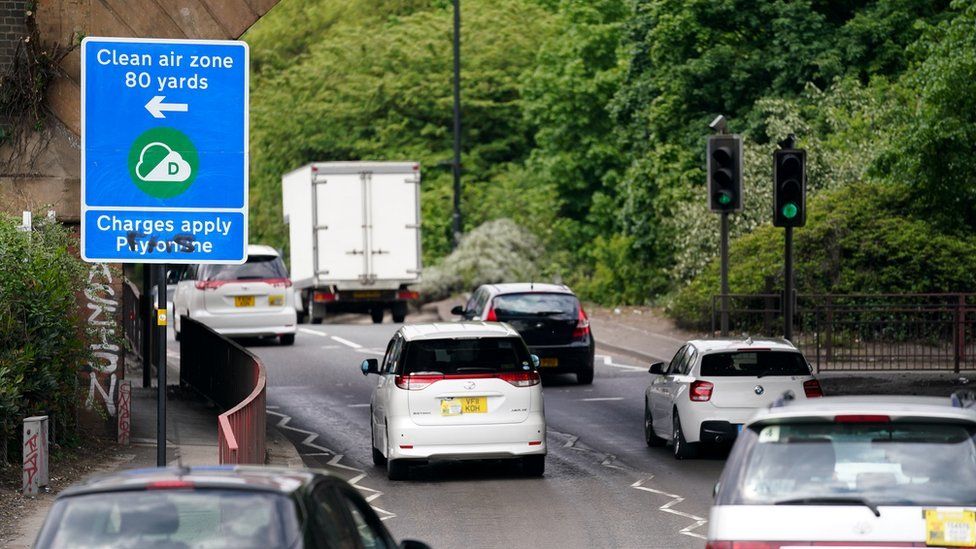 The controversial rollout of Greater Manchester's Clean Air Zone (CAZ) has been delayed.
The government said the pause would allow for consultation and a revised plan was due in July.
Regional mayor Andy Burnham had earlier asked the government to delay the scheme.
He also asked for a change to the deadline for Greater Manchester to meet legal obligations over air standards.
In a statement, the government said it had "carefully considered" Mr Burnham's request and Environment Secretary George Eustice had "agreed to allow a short delay".
It said: "This will allow Greater Manchester to provide further evidence and a revised plan by July, setting out how it will deliver legal levels of NO2 [nitrogen dioxide] as soon as possible, and no later than 2026.
"In making this decision, the environment secretary has made it clear that it is his priority to fulfil the government's legal obligations to deliver compliance with NO2 limits in the shortest time possible."
By Judy Hobson, BBC North West Tonight environment and transport correspondent
Fifty-two stretches of road across Greater Manchester break legal limits for nitrogen dioxide and green campaigners will not be happy.
Greater Manchester's air has been illegal for a decade, and they will say it should not have come to this, where at the eleventh hour the scheme is in chaos.
Client Earth - a group of environmental lawyers - are watching what is happening in Greater Manchester very closely.
If it fails to bring nitrogen levels down, the group says it will consider legal action.
Evidence provided by Greater Manchester Authorities - which is responsible for the CAZ - suggests the impact of issues such as Covid-19 on supply chains and the price and availability of second-hand vehicles will make it harder for people to upgrade to cleaner vehicles, the government said.
This means the CAZ is unlikely to meet legal limits by the original date of 2024.
CAZs are designed to encourage people to drive less-polluting vehicles - those with electric engines or more modern petrol and diesel engines.
Environment Minister Jo Churchill told BBC North West Tonight the scheme "was not being paused indefinitely because it's important".
She said: "We have a problem. Air quality is one of the biggest challenges we have on the health front.
"We haven't lost the ambition, we haven't lost the need, but we are needing to stop [and] breathe, making sure we've got this right."
The government has been calling on regional authorities to introduce CAZs since the UK's highest court, the Supreme Court, ordered ministers in 2015 to take immediate action to cut air pollution.
Some vehicles in Greater Manchester could be charged between £7.50 and £60 per day.
The government has provided £120m to help eligible drivers in the city region, including small businesses, the voluntary sector and HGV owners, switch to compliant vehicles.
Funding to upgrade heavy goods vehicles began at the end of November.
There have been demonstrations across Greater Manchester from taxi drivers and business owners who say they simply cannot afford the charges.
But Environmental campaign group Client Earth said the delay was "concerning" and meant people's health would suffer.
Related Internet Links
The BBC is not responsible for the content of external sites.