Manchester Arena attack: Victim's mum graduates in counter-terrorism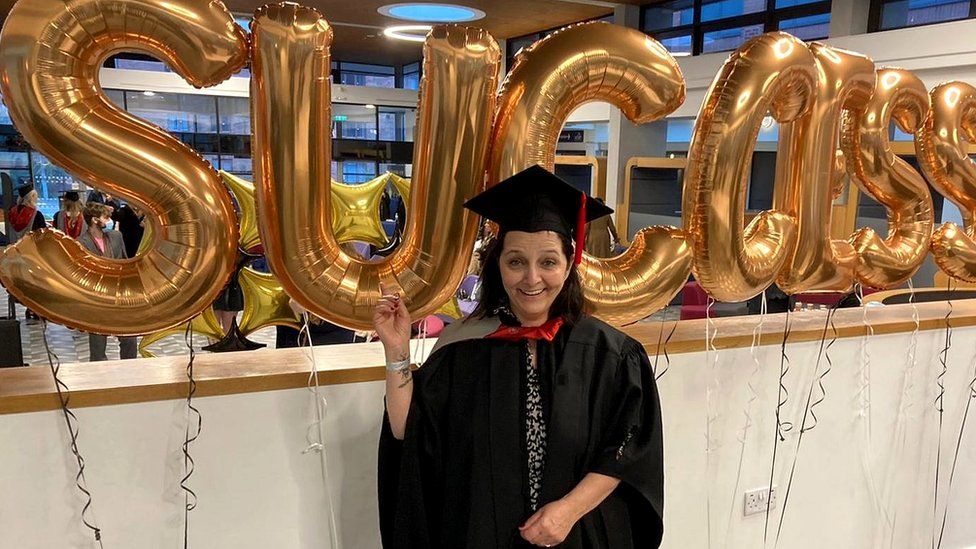 The mother of one of the victims of the Manchester Arena bombing has graduated from university with a Master's degree in counter-terrorism.
Figen Murray's son, Martyn Hett, 29, was one of 22 people killed in the suicide bombing in 2017.
Ms Murray said she had to balance part of her studies with attending the trial of the brother of her son's killer.
She said: "Martyn would be very proud of me, but I know he would tease me if he saw my cap and gown."
Abedi helped his older sibling Salman to plan the attack at an Ariana Grande concert which, as well as killing 22 men, women and children, including Ms Murray's son, also left hundreds more injured.
Since her son's death, Ms Murray has campaigned for legislation known as Martyn's Law, which would see security in crowded public spaces and venues stepped-up.
She told the BBC when her son died in the attack she "knew absolutely nothing about terrorism" and that proved to be the motivation for embarking on her two-year course at the University of Central Lancashire (Uclan) in Preston.
"I naively thought it just happens mainly in the States with all the school shootings and abroad in major cities and also in London.
"I had this massive urge to understand terrorism. I had a million-and-one questions about it."
But it was when she was giving a talk to Uclan students about the dangers of online radicalisation that this crystallised into thoughts of a degree course.
"During the break, I spoke to the tutors about all the questions I had in my head," she recalled.
"One of them printed off the syllabus and gave it to me. The tutors told me I could always come on the course.
"When I looked at the syllabus, I could not believe it. I knew the course would provide me with all the answers and much more."
The trial of Hashem Abedi began as Ms Murray was in the midst of her studies at Uclan.
She said: "I would be attending lectures and then getting straight onto the train to London where I would be writing my essays on the journey.
"It was weird going between two different worlds. When there was a break in the hearings, I would find somewhere to continue my writing at the Old Bailey."
Ms Murray said the biggest challenge she found compared to the last time she studied more than 20 years ago was coping with technology.
She said she had dedicated her Master's degree to her son.
Graduating today after two years studying my Masters in Counterterrorism. This one's for you, Martyn!💞

— Figen Murray (@FigenMurray) December 16, 2021
Related Internet Links
The BBC is not responsible for the content of external sites.