Manchester Arena bomb: Three PCs on duty face internal investigations
By Daniel De Simone
BBC News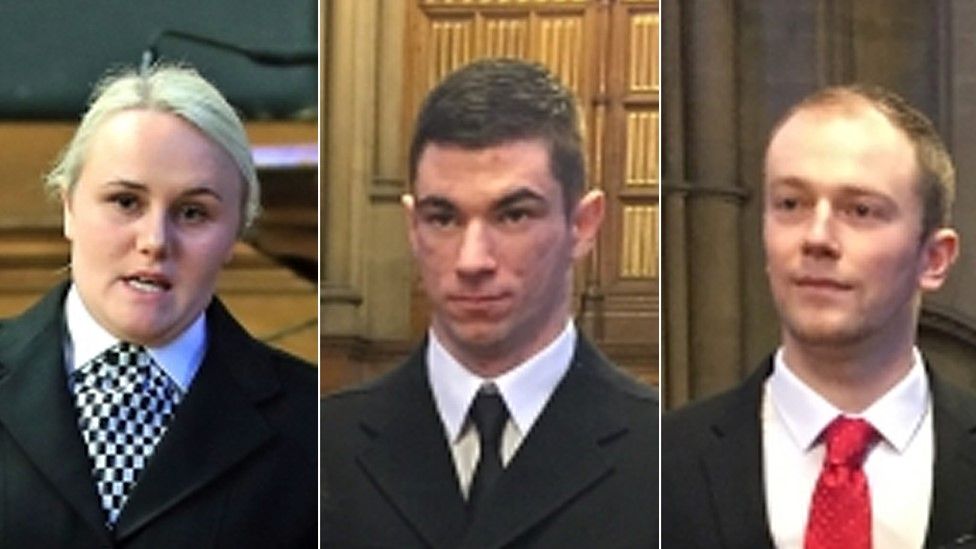 Three officers criticised during the Manchester Arena inquiry will not be investigated by the police watchdog.
British Transport Police (BTP) PCs Jessica Bullough, Mark Renshaw and PCSO Lewis Brown were on duty during the 2017 atrocity which killed 22 people.
They were among five officers referred to the Independent Office for Police Conduct (IOPC) after the force was criticised in a public inquiry report.
It concluded an internal force inquiry was appropriate.
Relatives of some victims want an independent investigation to take place.
The five officers referred to the watchdog were assigned to the arena at the time of the blast, which also injured hundreds as they left an Ariana Grande concert.
In June, inquiry chairman Sir John Saunders found the group "failed to follow clear instructions and do what was expected of them in important respects".
Four had ignored briefings to stagger breaks and took "substantially and unjustifiably in excess" of what was permitted, he said, while the inquiry heard PCs Bullough and Renshaw had gone on a 10-mile round trip to buy kebabs.
This meant there were no BTP officers in public areas below the arena during a key period.
Instructions were ignored to be at the venue's City Room entrance - where suicide bomber Salman Abedi detonated the device - in the 30 minutes prior to the concert's end.
This meant a member of the public had to raise concerns about Abedi with a young security guard, who took no action. Sir John concluded it was "likely that fewer people would have been killed" had a police officer been present who could have approached the bomber.
The IOPC said it received referrals regarding the conduct of five individuals on the night of the bomb, and had determined that investigations were required in three cases.
It directed that these be carried out locally.
A BTP spokesperson said PCs Bullough, Renshaw and Brown - who now works for Greater Manchester Police - were being investigated by the force's professional standards department.
Of the other two officers referred, one has died and the other - the most senior officer assigned that night, who arrived at the arena after the attack - has retired.
The spokesperson added that the IOPC had concluded a "local investigation" was the most suitable course of action.
"The force's professional standards department will now be conducting their internal assessment and considering the next steps," they said.
Related Internet Links
The BBC is not responsible for the content of external sites.