Shipping container homes: Praise for Manchester homeless village plan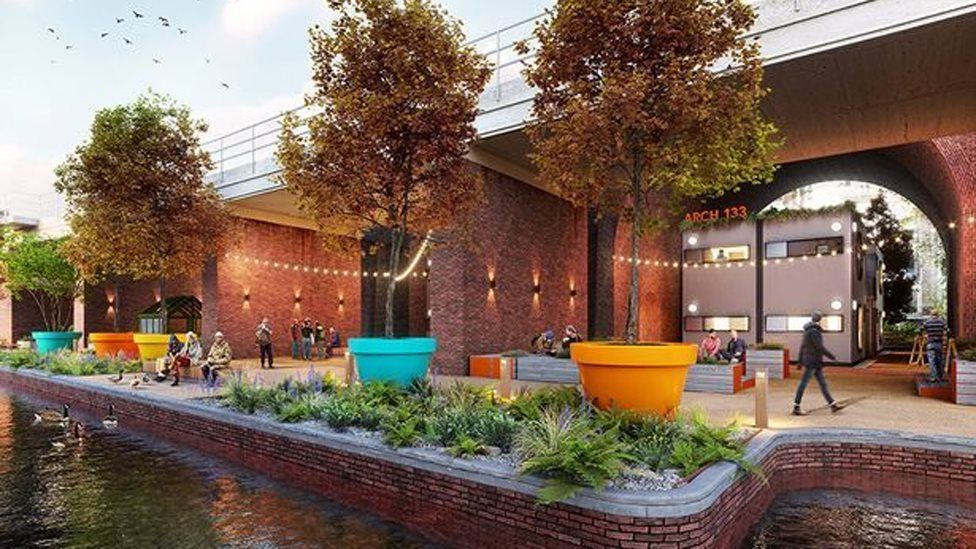 A charity's hopes of creating a "village" for the homeless from shipping containers in railway arches have been largely praised.
Embassy, which provides emergency shelter in Manchester, wants to build 40 homes alongside the River Medlock.
A village hall and communal sport and gardening space would also be built.
The charity said the development would give potential residents a safe place to stay while they find full-time work and move into privately-rented accommodation.
It said all residents would be interviewed and triaged, the site would have a strict zero tolerance drug and alcohol policy, and the homes would be offered to those willing to take on new opportunities.
The charity's planning application has divided public opinion, with 43 responses supporting the project and 18 objections.
Those in favour of the project said it could be a pilot for similar developments across the UK and praised Embassy as a "well staffed, well managed, and effective service".
One respondent said the development was "a great use of land under the arches", which was "not being utilised in any good way and is currently an eyesore".
However, among those objecting was one person who said it would be better suited to a site outside the city centre or "to an area with an edgier aesthetic, such as the Northern Quarter".
The charity has previously said the project, which is being supported by landowners Peel Holdings and developer Capital and Centric, was about giving "people their own front door".
Related Internet Links
The BBC is not responsible for the content of external sites.