Rochdale child grooming: Anger as gang member spotted in town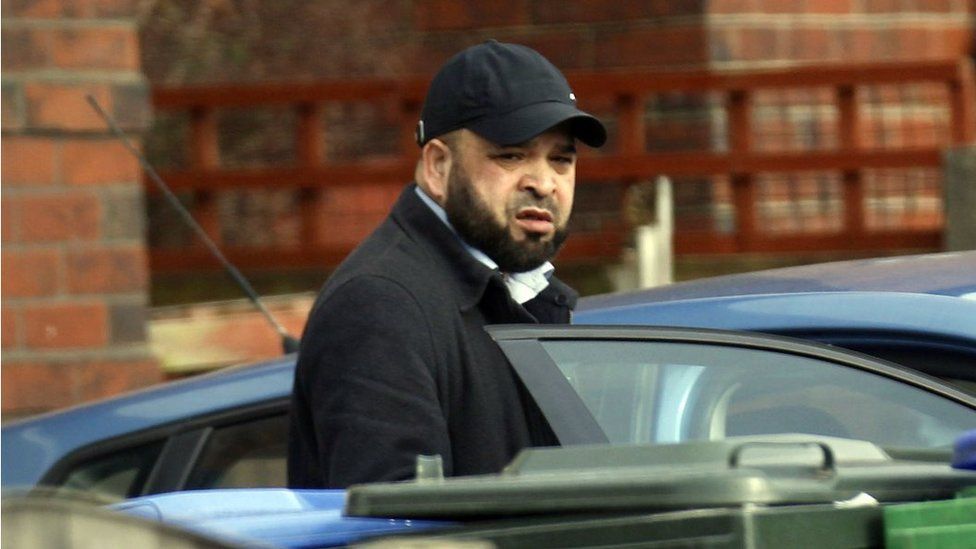 Fresh calls have been made to deport members of a notorious grooming gang after one of the men was spotted in the town where he abused young girls more than a decade ago.
The trio have been facing deportation since 2018 after losing an appeal to retain their British citizenship.
MP Tony Lloyd said the government had shown "grossly unacceptable inaction".
The Home Office said the men's cases had recently been reviewed and it "intends to update the victims through the proper channels when we can".
Rochdale's Labour MP Mr Lloyd was speaking after Rauf, now 51, was apparently photographed shopping in the town.
He was said to have been stocking up a trolley with drinks at a store, as well as carrying a takeaway food delivery bag.
Mr Lloyd said it was "unthinkable" that the men's victims still face the possibility of "walking round a street corner and bumping into them".
"Particularly as we've had promises from successive home secretaries, not just in recent months, but over a good number of years now," he said.
"Quite frankly the inaction by the government is unthinkable and grossly unacceptable."
Rauf, Aziz and Khan, who are Pakistani nationals, were among nine jailed for crimes including rape and trafficking of girls as young as 13.
In some cases their victims, who were targeted from 2008, had been raped and handed to men who paid for sex with them in Oldham as well as Rochdale.
The three men were given jail sentences of between six and nine years.
Former police detective Maggie Oliver, who resigned over the way the cases were handled by Greater Manchester Police, said news of the sighting of Rauf had made her "blood boil".
"This is just the latest failure about how disgracefully the victims are treated, basically," she said.
"I'm in touch with them regularly and this is the latest in a long line of what they see as the criminal justice system failing them.
"I know these men have been out and about in Rochdale just carrying on with their lives as if they've done nothing wrong."
A Home Office spokesman said: "What happened in places such as Rochdale remains one of the biggest stains on our country's conscience.
"The cases of the foreign national offenders involved in these crimes have recently been reviewed at the request of the home secretary and we intend to update the victims through the proper channels when we can."
Related Internet Links
The BBC is not responsible for the content of external sites.