Manchester Covid surge tests as mutation of Kent variant confirmed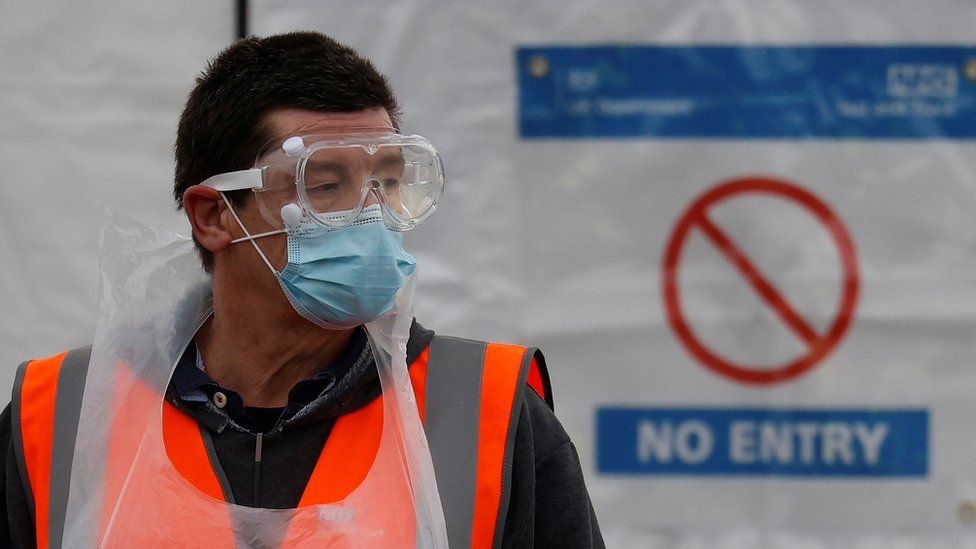 Surge testing for coronavirus is to be introduced in parts of Manchester after four cases of a new mutation of the Kent variant of Covid were confirmed.
More than 10,000 tests are planned after cases of the E484K mutation were found in two unconnected households.
Testing will take place in the Fallowfield, Hulme, Moss Side and Whalley Range districts, with extra testing centres opening.
Manchester City Council said volunteers would go house-to-house offering tests.
The council said it was working with Public Health England and NHS Test and Trace and everyone in the designated areas would be given a PCR swab test with results coming back within days.
The surge testing will begin on Tuesday, targeting people who do not have symptoms but live or work within the testing boundary area.
Surge testing is the rollout of additional community testing of people who do not have any coronavirus symptoms.
It aims to help scientists and public health officials learn more about mutated Covid-19 variants.
It will also help reduce the spread of infection by finding asymptomatic cases and prompting people to self-isolate.
David Regan, Director of Public Health, Manchester City Council, said: "We all know that the virus will change over time and it's important that we investigate new strains to understand how they might spread.
"This is exactly what we're doing with the intensive testing in parts of Manchester, with local testing units and people going door-to-door to offer people tests.
"There is no evidence that this variant will be resistant to the vaccines or causes a more severe illness, and it is not yet known if the strain can be passed more easily between people, but it is really important that everyone who lives in the boundary area and is over the age of 16 plays their part and gets a test."
Councillor Bev Craig, the council's executive member for adult health and well-being, said: "It's understandable that some residents in the area may be concerned by all this, but we need to remember that it's very normal for viruses to mutate.
"We are following the public health approach to react to the new variant and we will be working... to ensure as many people as possible know how to get a test so we can understand more about this version of the virus."
Related Internet Links
The BBC is not responsible for the content of external sites.