Bolton park stab death: Woman killed girl, 7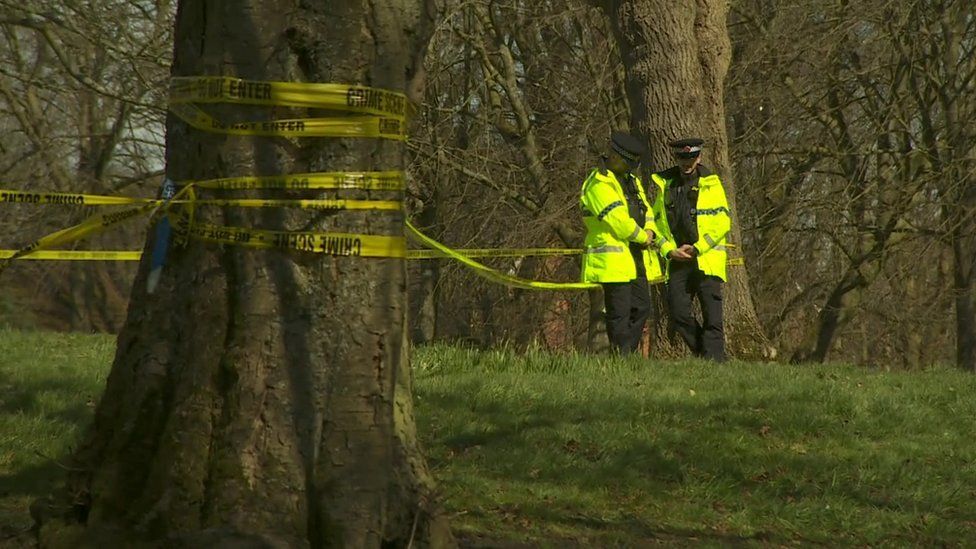 A seven-year-old girl had her throat cut in a random attack at a park on Mother's Day, a jury at Manchester Crown Court heard.
Emily Jones was at Queen's Park in Bolton with her parents when she was attacked by Eltiona Skana, 30, on 22 March, the court was told.
Ms Skana, 30, has admitted manslaughter on the grounds of diminished responsibility but denies murder.
She appeared at court via video link from high security Rampton Hospital.
Michael Brady QC, prosecuting said Emily was on a scooter and had been brought to the park by her father Mark Jones.
Moments before the attack Emily spotted her mother, Sarah Barnes, who was jogging around the park wearing headphones.
Oblivious of the defendant she called out to her mum and scooted towards her some yards ahead of her father.
Emily was grabbed by Ms Skana who "in one movement" cut the girl's throat and threw her to the ground, said Mr Brady.
He added: "There had been no interaction between Emily and the defendant."
In a statement read to the jury, Emily's father said: "I do not know why this happened. Emily was simply riding her scooter to her mum. I simply can't explain it."
Ms Skana, who bought the knife earlier that day, fled but was chased by Tony Canty who was walking in the park with his wife Lynsey and their baby daughter.
Mr Canty barged Ms Skana to the ground and detained her until police arrived.
After her arrest, Ms Skana, originally from Albania, was assessed, telling the on-call psychiatrist "I know I'm a paranoid schizophrenic". She was detained under the Mental Health Act.
Ms Skana was moved to the high-security hospital at Rampton where she told a psychiatrist, Dr Afghan, she had been "psychotic, hearing and seeing things".
'Indifference to killing'
While there she may have had a possible psychotic episode and another time it was reported while watching a children's TV programme she began laughing hysterically when she saw a child who looked similar to Emily, the court heard.
Ms Skana said she was "perfectly normal" before coming to the UK and claiming asylum in 2014, she told medics.
The jury was also told she showed "indifference" to the killing and spoke with a "smirk" but also showed appropriate emotional response when talking about her own family.
Speaking to a nurse at Rampton, Ms Skana said: "Like I said, it's been three months, what do you want me to do cry all the time?"
She later told the same nurse: "It was premeditated, I waited in a park and picked my victim, I did what I did, then tried to run away."
Mr Brady told jurors the main issue was whether Ms Skana's paranoid schizophrenia is the reason behind the killing or her illness is simply "a convenient excuse behind which to hide".
The trial is scheduled for five days.
Related Internet Links
The BBC is not responsible for the content of external sites.