University of Manchester students offered further rent reduction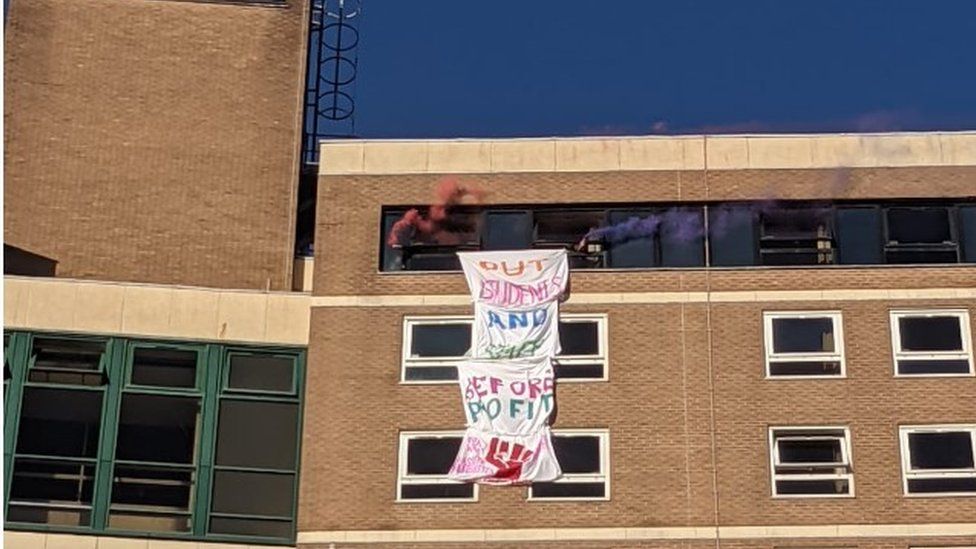 Students at University of Manchester halls of residences will receive a 30% reduction in rent in a row over lack of support during the coronavirus pandemic, the university said.
The reduction, equivalent to four weeks' rent, is an increase from a previous two-week rent reduction offer.
The Students' Union has been contacted for comment.
The offer is part of an "accommodation pledge" announced by the university following discussions with Students' Union officers and elected student representatives from halls of residence.
The university said as part of the pledge it agreed to open up more social and study spaces in halls in line with Covid-19 guidance, improve its dealing with maintenance issues and enhance safety and security in halls of residence.
It said it was also working with student representatives to develop a behaviour pledge to set out "expectations of student conduct in halls of residence during the pandemic".
Earlier this month students "occupied" a University of Manchester building in a protest, demanding rents be reduced by 40%.
It followed an earlier protest when students living at the University of Manchester's Fallowfield halls of residence tore down "prison-like" fencing erected around their campus on day one of England's national lockdown.
The 30% reduction will be applied to direct debit payments in January 2021, and students who have already paid for the whole year will get a refund.
Students will be entitled to the reduction irrespective of whether or not they stay in halls over the holiday period and they will also now be able to break their accommodation contract without financial penalty, the university said.
Related Internet Links
The BBC is not responsible for the content of external sites.