Salford towers' flammable cladding replacement 'will not end until 2022'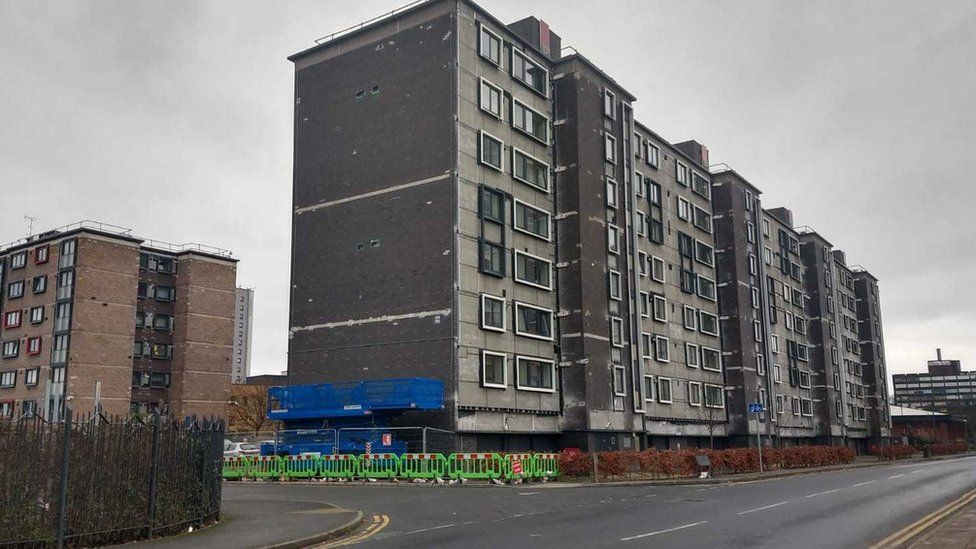 Work costing £33m to replace flammable cladding on nine Salford apartment blocks will not end until 2022, councillors have been told.
Cladding was removed in September, more than three years after 72 people died in the Grenfell Tower fire in London.
But work to replace it with a safer substitute, and install new sprinkler systems at the Pendleton flats, will not begin until early next year.
The opposition Conservative group called the timescale "staggering".
Dylan Vince, part of the council's housing team, told a scrutiny panel this week that work to remove cladding finished two months ago.
Enabling work for the new cladding and sprinkler system has started, he said.
Conservative councillor Robin Garrido said he was "absolutely staggered" that the replacement work programme would take so long.
He said residents who had been "living in fear" were now going to be inconvenienced for an "unacceptable length of time".
Salford Council's strategic director Ben Dolan refused to apologise.
"To do it right takes time," he explained. "This is not a simple 'there have been poor cladding panels, so we can take the panel off and put a panel on'. The challenges run much deeper than that and sometimes that has failed to be appreciated."
Related Internet Links
The BBC is not responsible for the content of external sites.