Manchester clubs urged to pay staff 'real living wage'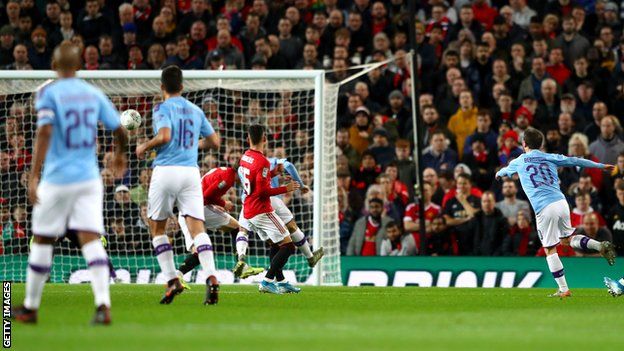 Food banks in Manchester have written to the city's Premier League football clubs saying "many" staff members are "struggling to put food on the table".
They have urged Manchester City and United to pay their staff a "real living wage" of £9.30 an hour.
The recommended rate is different to the statutory National Living Wage for workers aged 25 and above, which currently stands at £8.72 an hour.
United said all workers received the national living wage as a minimum.
Manchester City have also been approached for comment.
The Living Wage Foundation has previously said its "real" pay rate - which applies to workers over 18 - is calculated independently and is based on costs such as food, clothing and household bills.
Their calculation is that it is £9.30 an hour across the UK except in London, where it is £10.75 with the rate is set to change next week as part of Living Wage week.
Food banks and the Greater Manchester Citizens have written to club executives asking them to adopt the real living wage for all staff.
In a letter, they said: "Both clubs are loved by so many in the city, and many have been inspired by the vital work your clubs have done during the pandemic, especially the incredible campaign led by Marcus Rashford MBE to tackle child food poverty.
"But the reality is that many of your own staff, including caterers and cleaners, are themselves struggling to put food on the table because they don't earn the real living wage."
According to the Living Wage Foundation, only five Premier League clubs - Everton, Liverpool, West Ham, Chelsea and Crystal Palace - currently pay staff the real living wage.
United said: "Given the size of the club and with such a varied workforce across a number of specialist areas, staff salaries do differ, depending on their remit.
"However, all permanent and temporary employees, whether engaged on a full or part-time basis, are paid the national living wage."
Related Internet Links
The BBC is not responsible for the content of external sites.