Coronavirus: Manchester universities move teaching online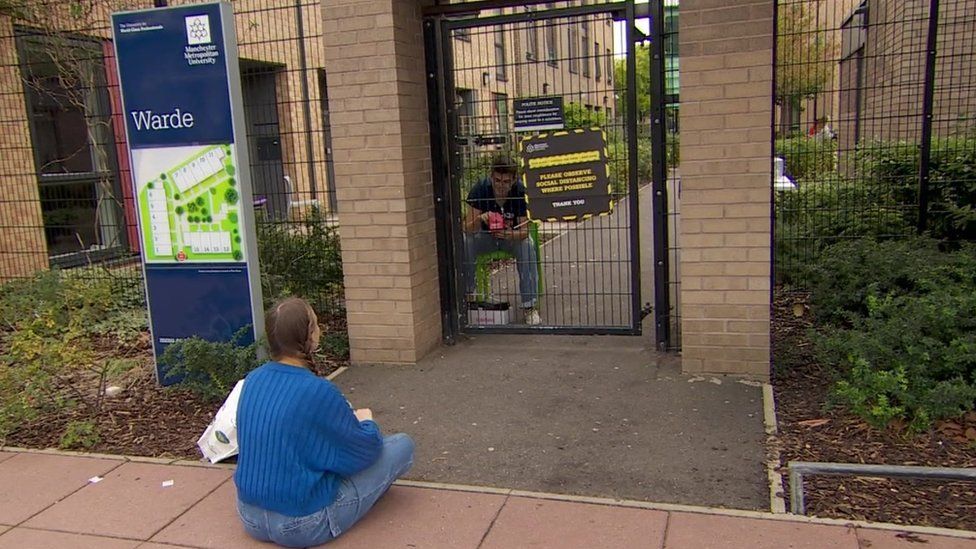 The two main universities in Manchester are teaching online until "at least" the end of the month after a coronavirus outbreak among students.
Manchester Metropolitan University (MMU) and the University of Manchester (UM) said it was a "collaborative decision" with public health bosses and "won't impact" on teaching quality.
UM said the move was to "protect the health" of students and staff.
Manchester has the highest rate of infections in England with 561 cases per 100,000 of the population.
The University of Manchester said more than 1,000 students and 20 staff members have reported testing positive for the virus while the figure is understood to be over 500 at Manchester Metropolitan University.
David Regan, the director of public health for Manchester, said: "Clearly we need to introduce a contain approach with the universities just to manage transmission over the next three weeks."
The universities said teaching will be done online until at least 30 October, but there will be a review on 23 October. Exceptions to the online teaching include accredited and professional programmes, and laboratory, clinical and practice-based subjects.
The University and College Union welcomed the move towards virtual learning but said Covid-19 outbreaks "could have been prevented had the decision been taken earlier".
"Hundreds of students that did not have to move into student accommodation are now self-isolating without their familiar support network," Martyn Moss, from the UCU said.
All teaching will be moved online at the University of Sheffield, with the exception of clinical teaching and research, from Friday until 19 October.
A spokesperson said it would be "working hard to resume these activities as soon as possible".
Related Internet Links
The BBC is not responsible for the content of external sites.