Manchester attack: Hashem Abedi refuses to face victims' relatives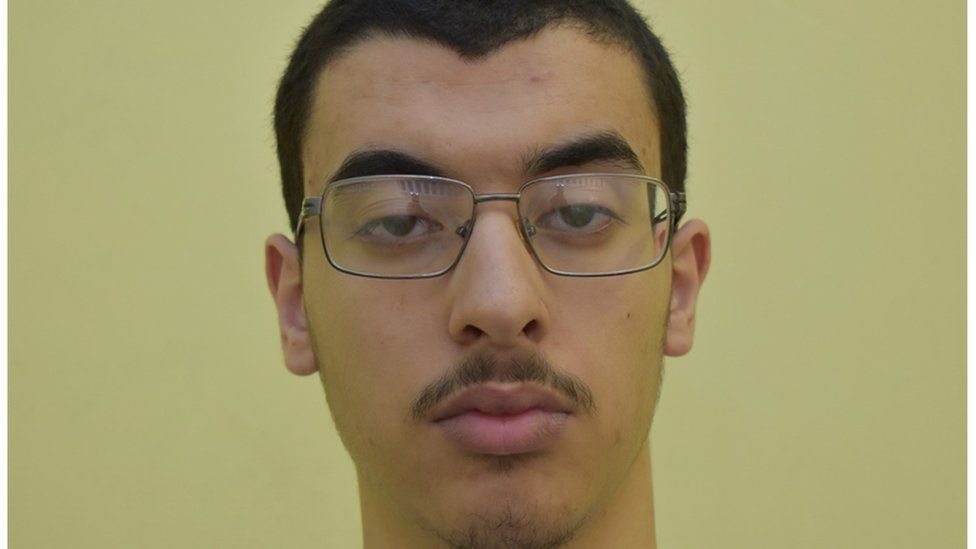 The brother of Manchester Arena bomber Salman Abedi refused to leave his cell as a court heard emotional testimony from bereaved relatives.
Hashem Abedi is due to be sentenced for the murder of 22 people in the 2017 terror attack.
At a two-day court hearing, family members of some of those killed have told of the impact of their loss.
One bereaved mother told the Old Bailey Abedi's "horrendous act of cowardice changed our lives forever".
The 23-year-old worked with his brother to source materials used in the "sudden and lethal" blast which injured hundreds at the end of an Ariana Grande concert on 22 May 2017.
During the hearing, parents broke down in tears as they recalled the moment they discovered their loved ones had died.
Some held up photos of their children as they paid tribute to them and described the "devastating" effect of their grief.
Others slammed the Abedi brothers, branding them as an "evil" pair who launched a cowardly attack on innocent people.
Lisa Rutherford, whose daughter Chloe was killed at the arena, said the "horrendous act of cowardice changed our lives forever", adding that her loss was a "pain that never leaves us".
It is normal for defendants to be present in court but Abedi - who dismissed his legal team - refused to attend.
Judge Mr Justice Jeremy Baker said he had "no power to direct that force be used to compel him to come into court".
'A pain that never leaves us'
During an emotional day at the Old Bailey, the court heard a series of victim impact statements from survivors and the bereaved.
Jayne Jones, mother of 14-year-old Nell Jones, said words did not "come anywhere near" describing their grief.
"We miss her laughter, her wicked sense of humour. But we cherish her legacy," she said.
June Tron, the mother of Gateshead plumber Philip Tron, 32, told the court "my world fell apart" when she was told he had died and she still suffers nightmares about the bomb going off.
"I felt immense guilt. I just want the trial over. I want justice so I can start to breathe."
Michael Thompson said his family was "going from day to day on autopilot" since his daughter Michelle Kiss, 45, had been "taken from us in the most terrible and cowardly way".
"We believe there is more good in the world than bad but unfortunately it only takes one bad person to devastate and destroy so many lives," he said.
In March this year Abedi was found guilty of 22 counts of murder, one count of attempted murder - encompassing injured survivors - and conspiring to cause explosions.
Abedi would have been eligible for a whole-life term had he been over the age of 21 at the time of the bombing, the court heard.
Mr Justice Baker said it was a "matter for Parliament who pass legislation which prevents the court of making a whole-life order in the circumstances of this case".
The Old Bailey was told some of the victim impact and witness statements should not be read in open court, but instead be considered by the judge in private.
The hearing has been adjourned until Thursday when Abedi's sentence is due to be handed down.
Related Internet Links
The BBC is not responsible for the content of external sites.