Coronavirus: Major incident declared in Greater Manchester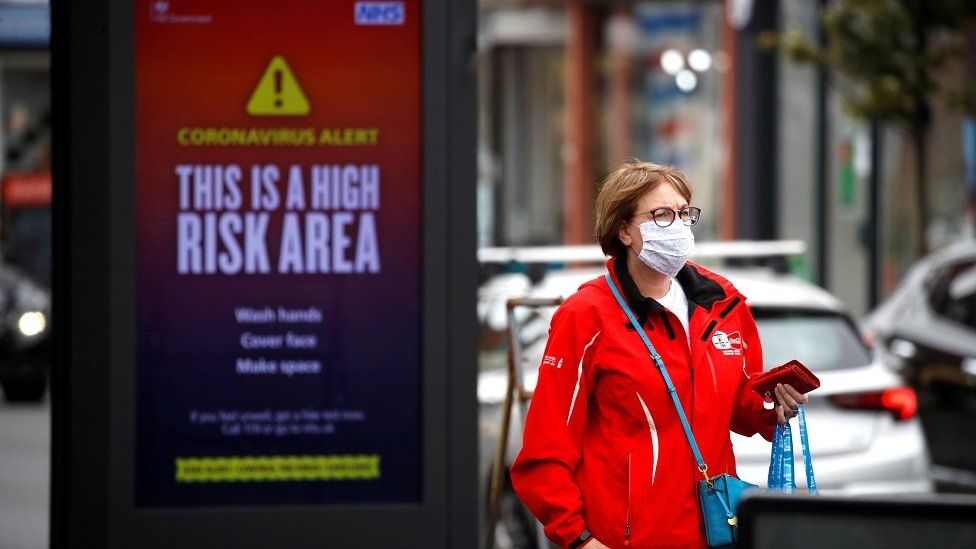 A major incident has been declared by authorities in Greater Manchester following recent rises in coronavirus infection rates.
Greater Manchester Police (GMP) said the decision was taken to help agencies respond "as effectively as possible", including with extra resources.
People "should not be alarmed" by the news as it was "standard practice", Manchester City Council said.
Greater Manchester is one of the areas subject to new lockdown measures.
The new restrictions announced on Thursday - that also apply in east Lancashire and parts of West Yorkshire - ban separate households from meeting each other at home.
The new rules also ban members of two different households from mixing in pubs, restaurants and other hospitality venues, but those businesses are permitted to remain open for those visiting individually or from the same household.
Greater Manchester Combined Authority (GMCA), which is made up of ten councils - Bolton, Bury, Manchester, Oldham, Rochdale, Salford, Stockport, Tameside, Trafford and Wigan - said the public should be "reassured" that the guidelines remain unchanged.
"This move was simply to enable public agencies to access any additional resources they need as quickly and efficiently as possible," a GMCA spokesperson said.
"This is no more than a boost to our capabilities... and maximise our resources in the drive to reverse the spike in infection which we have witnessed in the last seven to 10 days."
What are Greater Manchester's new lockdown rules?
Does your household include close family members?
Your household only includes the people you live with. If you have formed a support bubble, which must include people who live alone or single parents with dependent children aged under 18, these can be treated as if they're members of your household.
Can I still meet people outdoors?
You can continue to meet in public outdoor spaces in groups of no more than six people, unless the group includes only people from two households. You cannot meet people you do not live with in a private garden. you should socially distance from people you do not live with - unless they are in your support bubble.
Can I leave the area to go on holiday?
You can still go on holiday, but you should only do this with people you live with or part of your support bubble.
You should not visit friends or family in care homes, other than in exceptional circumstances.
Can I still go to work in this area?
Yes. People can still come inside your home when they're doing so as part of their work.
Can I still go to cafes, restaurants, the gym and other public places?
Yes. But you should only go with members of your own household if indoors - even if you are going outside of the restricted area.
Out of the top 20 worst affected local authority areas for Covid-19 infections in England, seven are in Greater Manchester.
In the week to 29 July, Oldham recorded 137 new cases, equivalent to 58 per 100,000 population, up from 91 (just under 39 per 100,000) the week before.
While cases in Rochdale have come down, they were still ahead of six of the boroughs that make up the metropolitan county. And its figures for the week to 29 July placed it 12th out of 315 local authority districts in England.
Bolton recorded two additional cases on the previous week, but its rate is higher than Bury and Wigan, which also recorded rises.
Sir Richard Leese, leader of Manchester City Council, said declaring a major incident was "standard practice for complex situations which require a co-ordinated multi-agency response".
"Although the council and partner organisations have been working closely to tackle the impacts of the pandemic since early this year, declaring a major incident means we can ramp this up further," he said.
"Following last week's government announcement of preventative public health measures across Greater Manchester to address the rising number of Covid-19 cases, the public would expect us to give this situation our concerted collective attention.
"That, with a view to enabling these restrictions to be lifted as soon as possible, is exactly what we are doing."
GMP Assistant Chief Constable Nick Bailey said: "It is part of our desire to protect the population of Greater Manchester and provide them with the highest levels of assurance that agencies are doing all they can to reduce infection rates and bring Greater Manchester back to as near a state of normality as current times allow.''
The Department of Health and Social Care is yet to comment.
Related Internet Links
The BBC is not responsible for the content of external sites.