Manchester Arena attack: Survivors refused role in inquiry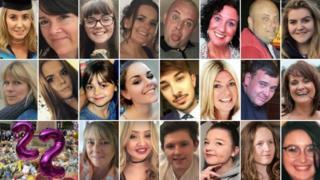 Manchester Arena bombing survivors have lost their bid to be represented at a public inquiry into the 2017 bombing.
In April, chairman Sir John Saunders denied survivors of the blast "core participant" status in the hearing.
The group took legal action to give them the same rights during the inquiry as the police, government and families of those who died.
Saoirse de Bont, who represents more than 50 survivors, said the decision was "hugely disappointing".
The public inquiry, due to begin in September, will examine the background to the attack and emergency responses.
Ms de Bont said the ruling left "our clients who were seriously injured feeling like they will not have a voice at the public inquiry".
She said the families were now considering any options for appeal.
Martin Hibbert, who was the closest casualty to the bomb blast to survive, said he was "very upset and disappointed" by the decision but added the fight was not over.
"We were the lucky ones. We were there and we survived," said Mr Hibbert, who was left paralysed from the waist down.
"So we've got a lot information that we feel is imperative for a thorough investigation so lessons can be learned.
"We are perplexed as to the ruling given what we've seen, what we've heard and what we've been through."
A total of 600 adults and 340 children were injured in the blast after an Ariana Grande concert on 22 May 2017, the court heard.
Paul Greaney QC, counsel to the inquiry, said the hearing would focus on those who died in the attack but many survivors would give evidence and they were being encouraged to raise any issues with the inquiry team.
The judicial review was heard by Dame Victoria Sharp, the President of the Queen's Bench Division, and Mr Justice Garnham.
In the ruling, Dame Victoria said the survivors' application was "out of time" as it was made several weeks after the 14-day cut-off following Sir John's decision on 21 April.
"We would in any event have refused permission to apply on the ground that the claim itself is not arguable," she added.
The full reasons for the decision on the judicial review will be published at a later date.
Twenty-two people were killed and hundreds injured when Salman Abedi, 22, detonated a suicide bomb as fans left the arena.
His younger brother, Hashem Abedi, was convicted of 22 counts of murder in March at the Old Bailey and is expected to be sentenced in August.
Why not follow BBC North West on Facebook, Twitter and Instagram? You can also send story ideas to northwest.newsonline@bbc.co.uk