Specialist Leisure Group collapses into administration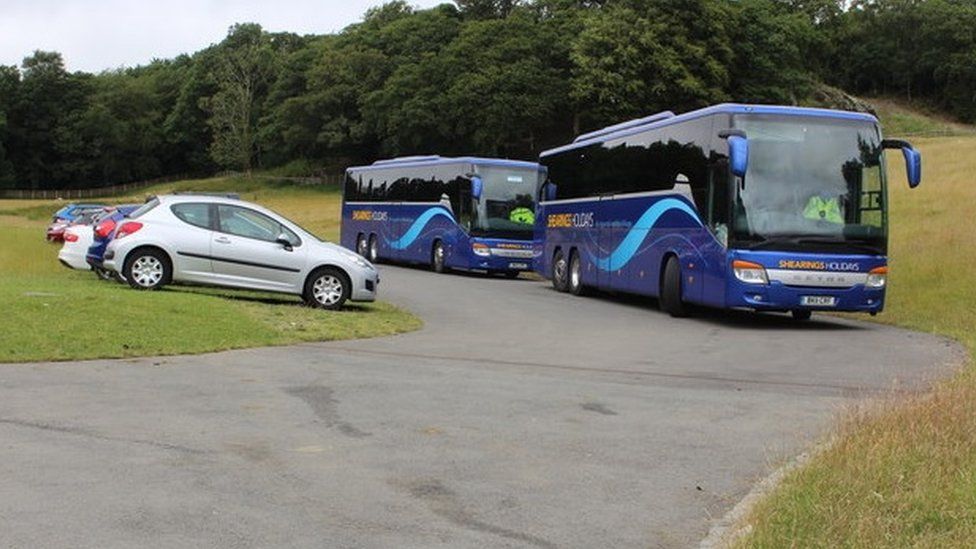 About 2,500 jobs have been lost and 64,000 bookings cancelled with the collapse into administration of Specialist Leisure Group.
The hotel and travel company included well-known coach holiday brands Shearings and National Holidays.
Trade organisation Abta said the company, which specialised in products for the over-50s, was "significantly impacted" by the coronavirus pandemic.
One hotel owner predicted its demise would leave "a void in the market".
Abta said the company had struggled to provide thousands of refunds for cancelled trips.
It added that the vast majority of cancelled bookings were coach package holidays, which are financially protected, and customers with these bookings would receive a full refund.
The Specialist Leisure Group, based in Wigan, also operated Caledonian Travel and hotel businesses such as Bay Hotels, Coast and Country Hotels and Country Living Hotels.
The firm said on its website that all tours, cruises, holidays and hotel breaks had been cancelled and would not be rescheduled, blaming the impact of the pandemic.
Employee Matthew Herbert said he was "gutted" upon hearing the news.
"It'll take a while for this wound to heal. To my colleagues, good luck, stay safe, stay strong," he wrote on Twitter.
Gutted that from today Shearings is no more. 13 years of my life ended a little sooner than I'd like. I've met so many people, made so many memories, it'll take a while for this wound to heal. To my colleagues, good luck, stay safe, stay strong & don't be a stranger... pic.twitter.com/pwPiIl8Dp7

— Matthew Herbert (@Mattherbert6) May 22, 2020
Richard Perry, who owns the Silversands Hotel in Blackpool, has worked with National Holidays and Caledonian Travel for 10 years and said they had been "very successful and brought lots of people" to the hotel.
Mr Perry said he was owed £6,500 by National and would have "to look at our business model again as National supplied around 60% of our trade".
He described the group's collapse as "a great shame" and believes there "will be a void now in the market especially for pensioners who can no longer travel abroad".
Harry Carter, 71, and his wife Gillian have been regular National Holidays customers for years.
Mr Carter said: "I'm upset about the news. Never in all my years of using them have we ever had a bad experience.
"You get on the coach and you meet some very interesting people, and the service you get from the driver is first-class.
"It's like a big family."
John de Vial, Abta's director of membership and financial services, said: "Today is a very sad day for these customers and the thousands of staff who will have lost their jobs.
"The fact that two such well-known brands with a loyal customer base have had to call in administrators is a stark indication of the pressure that the holiday industry is under as a result of the coronavirus pandemic.
"Abta has repeatedly highlighted to the government the urgency of the situation and the need to set out a co-ordinated strategy with clearer communication if it wants to help avoid significant job losses and support companies to weather the storm."
Other coach companies sent messages of support.
Runcorn-based Anthony's Travel mourned the loss of a firm said in a tweet Shearings was "long-associated with the golden age of coach travel and UK tourism".
Saddened to hear Shearings group have gone into administration , a name long associated with the golden age of coach travel and UK tourism , our thoughts and best wishes to all their employees and suppliers effected pic.twitter.com/NWyxfn1en1

— ANTHONYS TRAVEL (@ANTHONYSTRAVEL) May 22, 2020
Teesside-based Skelton Coaches urged the government to "help the coach and tour industry before it's all gone".
Sad to see the news this evening that the Owners of Shearings Holidays, National Holidays and Caledonian Travel have entered administration. So many years of operating and so many people out of work when will the government help the coach tour industry before it's all gone. pic.twitter.com/s7J2MNLJ4v

— Skelton Coaches (@SkeltonCoaches) May 22, 2020
Atol, the government-run financial protection scheme, said it would be contacting the small number of customers with flight-inclusive packages, which would be protected.
Atol spokesman Andrew McConnell said: "This is a particularly sad day for customers and employees of Shearings Holidays Ltd, a long-standing business and well-known UK travel company."
Are you a Specialist Leisure employee or customer? Share your experiences by emailing haveyoursay@bbc.co.uk
Please include a contact number if you are willing to speak to a BBC journalist.