Manchester Arena attack inquiry: Survivors apply for role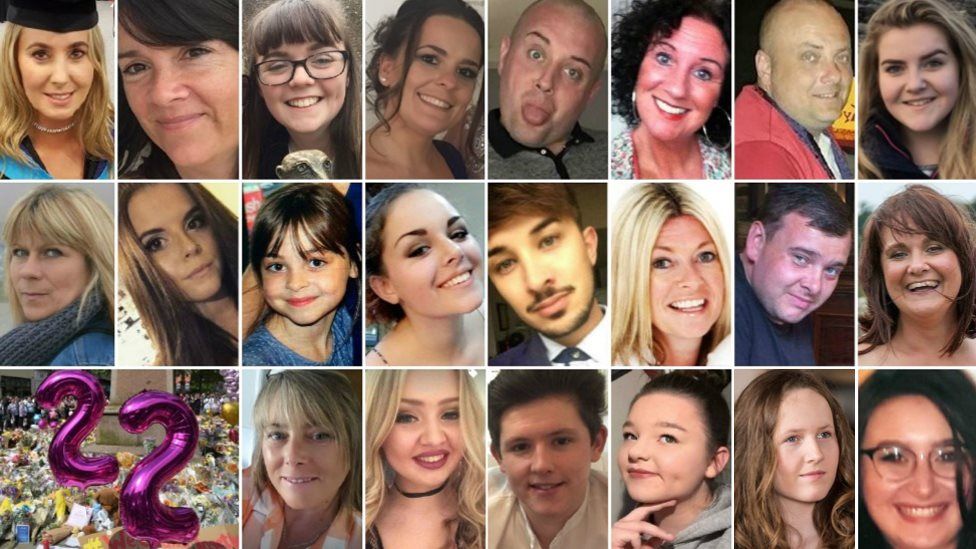 Some survivors of the Manchester bombing are making a bid for a role in the public inquiry into the attack.
Salman Abedi, 22, detonated a suicide bomb as fans left an Ariana Grande concert, killing 22 people and injuring hundreds more on 22 May 2017.
More than 50 survivors applied to be "core participants" at a preliminary inquiry hearing at Manchester Town Hall.
The inquiry has been postponed until September due to the Covid-19 crisis.
Brenda Campbell QC, representing a group of 54 survivors, made a legal application for them to get "core participant" status.
It means through their lawyers survivors can see evidence, ask questions of the witnesses and the chairman, and suggest experts.
Ms Campbell said the scope of the inquiry was to conduct a "full, fair and fearless" examination of events and get to an understanding of the wider circumstances of why the attack took place and the aftermath so "lessons can be learned".
She cited one survivor, Andrea Bradbury, a retired police inspector and counter-terrorism officer, who saw Abedi in the minutes before he detonated the bomb.
And another who was "catastrophically injured" and saw his daughter covered over, thought to be dead, and he had to intervene because she was still alive.
Ms Campbell's application was opposed by some families of the bereaved and by counsel to the inquiry, Paul Greaney QC.
Some of the families of victims are worried it would divert attention away from the central focus of the inquiry - which is the 22 who died - and further delay it.
John Cooper QC told the hearing nine of the bereaved families he represents were "categorically" opposed to the application.
Sir John Saunders, who is chairing the inquiry, said he "may make a decision after the weekend" on whether to approve the status.
The inquiry into the bombing was due to take place this month, but was postponed due to the coronavirus outbreak.
Prosecutors said Hashem was "jointly responsible" with his brother for the attack.
Hashem, who pleaded not guilty, was also found guilty of one count of attempted murder, encompassing the remaining injured, and conspiring to cause explosions.
He is due to be sentenced at the Old Bailey on 23 and 24 April.
Related Internet Links
The BBC is not responsible for the content of external sites.