Coronavirus: Piccadilly Gardens 'not closing' during outbreak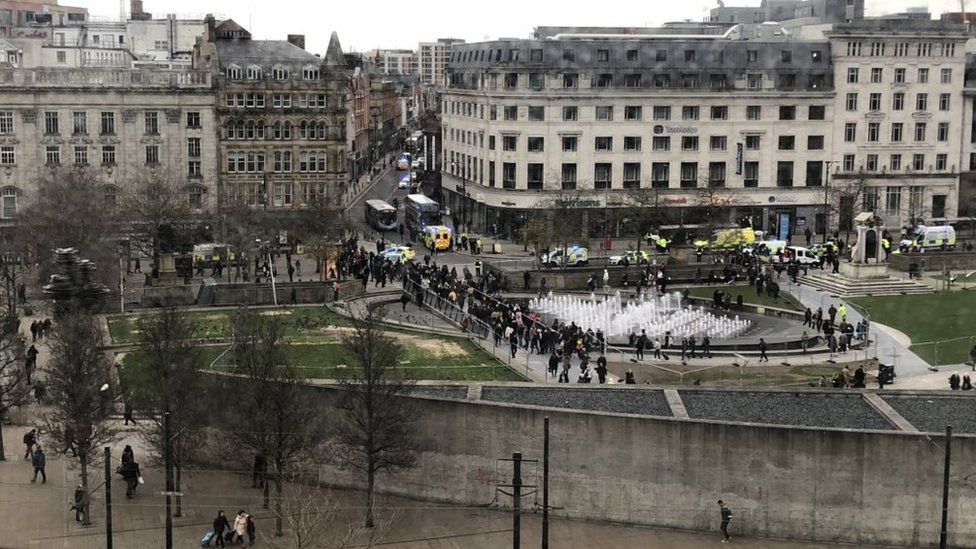 A major open space in Manchester which is a "hotspot" for crime is to stay open during the coronavirus outbreak, say the police and the city council.
Chief Constable Ian Hopkins had said criminal activity in Piccadilly Gardens was proving a "challenge" for the force and he wanted the area fenced off.
"It's a public space. Public spaces are closed, it will disperse some of the issues," he told BBC Radio Manchester.
But Greater Manchester Police (GMP) has now deemed the plan unnecessary.
"Everybody knows that Piccadilly Gardens has been a hotspot for homelessness, for drug dealing, for some other crime issues that we find are a real challenge," said Mr Hopkins.
"Sadly that has continued and I think is exacerbated because everybody else isn't there - it is far more visible.
"We can't be running to Piccadilly Gardens every two minutes arresting people."
However, GMP has now said in a statement that having assessed the latest situation with Manchester City Council closing it was "not necessary".
It said it would continue to monitor the area closely and implement the closure "should it be deemed necessary".
"Public safety is our shared priority," GMP added.
Earlier this week, Prime Minister Boris Johnson announced new restrictions designed to stop the spread of coronavirus, including closing some public areas and preventing public gatherings.
They include the partial demolition of a large barrier that has been likened to a section of the Berlin Wall.
Related Internet Links
The BBC is not responsible for the content of external sites.