Midrar Ali: Doctors can withdraw treatment, judge rules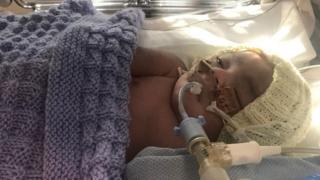 Doctors can withdraw treatment for a brain damaged baby at the centre of a legal battle, a High Court judge ruled.
St Mary's Hospital in Manchester said four-month-old Midrar Ali is brain dead and it wants to stop his ventilation.
His parents had urged medics to continue treatment, saying he was showing "signs of life". They said they would now appeal against the decision.
Mrs Justice Lieven ruled in favour of the hospital, referring to "clear and consistent" medical evidence.
"The facts of the case are tragic and one can only have the greatest sympathy for what the parents are going through," she said.
Midrar was starved of oxygen and suffered brain damage when the umbilical cord came out ahead of his birth.
Manchester University NHS Foundation Trust, which runs St Mary's Hospital, said Midrar has been on a ventilator since birth and has never breathed independently.
It said his organs were deteriorating and continuing to treat Midrar was "undignified".
Mrs Justice Lieven, sitting in London for the High Court in Preston, Family Division, said: "I have no doubt that Midrar is brain stem dead."
Three tests confirmed this, she said, handing down her approved judgement following a trial last week.
"The medical evidence is both clear and consistent... and this is undoubtedly irreversible," Mrs Justice Lieven said.
"It is perfectly understandable that the parents should cling to hope by pointing to Midrar's movements, including chest movements.
"However, all four consultants who gave evidence said there was an obvious and well-known reason for these movements, namely spinal cord reflexes."
She said three clinicians were "entirely clear" Midrar was not showing a respiratory response by trying to breathe.
"The medical evidence could not have been clearer or more unequivocal on this point," she said.
'Wrong decision'
The Manchester University NHS Foundation Trust said in a statement after the ruling its "thoughts remain with baby Midrar and his family at this very difficult time".
It said it would ensure the family was supported.
"We recognise these are incredibly sad circumstances, however, due to patient confidentiality, the trust is unable to comment further," it added.
Midrar's father Karwan Ali, 35, from Manchester, said the judge was wrong and the family were planning an appeal against the judgment.
"She has not made the right decision. It's as simple as that," the biomedical scientist said.
"Midrar is still growing. How can he be growing if he's brain dead?"
He added: "We love him, we will fight for him."