Lawyer admits drink-driving and is banned for 18-months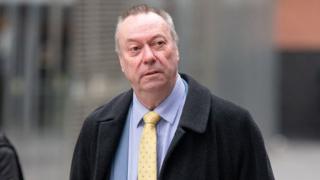 A lawyer who specialises in traffic cases has been banned from driving for 18 months after being caught drink-driving in his Jaguar sports car.
Neal Etherington, 64, was stopped by police near his home in Hale, Greater Manchester at 22:00 GMT on 11 December.
Tests showed he was almost twice the legal alcohol limit.
The lawyer admitted drink-driving but claimed he was unsteady on his feet as he was getting out of a car ''six inches off the ground".
Representing himself, Etherington told Manchester Magistrates Court: "Being 'unsteady on my feet' is a somewhat trite comment. I'm 64 getting out of a vehicle six inches off the ground so anyone would be.
"But I'm guilty as charged and I haven't and won't drink drive again. I have zero tolerance to it."
Etherington, who was stopped after police got a tip-off he was drunk at the wheel, provided a reading of 66 micrograms of alcohol per 100 millilitres of breath. The legal limit is 35mg.
He described himself as a "careful driver" who had a clean driving licence and had not had an accident "in over 40 years".
According to his LinkedIn page the former insurance claims handler worked as a solicitor at a "no win no fee" firm in Wilmslow and specialised in investigating road traffic accidents and thefts for clients.
He said: "I was self-employed at the time and investigated road traffic accidents and vehicle thefts ironically.
"I obviously can't work for them as I won't be able to go out and help witnesses. I'm unemployed from now."
Prosecuting Miss Laura Peers told magistrates: "A member of the public said they suspected the defendant was driving under the influence along Hale Road.
"Police officers attended at 22:00 GMT and they smelled alcohol on his breath and he was unsteady on his feet. He provided a roadside sample which he failed and was taken into custody."
In addition to the 18-month driving ban Etherington was also fined £120 and ordered to pay £117 in costs and surcharges.