Bury scrapyard fire: Smoke billows over town as crews fight blaze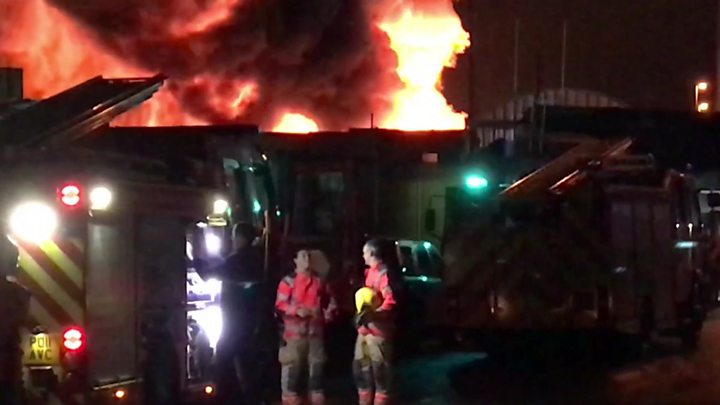 A large fire has engulfed a scrapyard in Bury causing plumes of smoke to billow out over the town.
At its height, 100 firefighters were tackling the blaze in Pimhole Road.
The fire broke out on Thursday evening and by 03:45 GMT the operation was being scaled back, Greater Manchester Fire and Rescue Service said.
The spokesperson added the "challenging blaze" was under control, but crews were likely to remain at the scene for the rest of the day.
People living nearby have been asked to stay indoors, keep windows shut and avoid the area.
The fire service said the blaze was approximately 30m (98ft) by 30m and reached 10m high.
Nearby residents reported hearing explosions coming from the site.
Michelle Boudin, from Bury, said: "I could see it from my bedroom window. The fire is at the scrapyard at Pimhole, I believe the Autosave yard. It's still burning now and I can hear the explosions from here."
"I would say my only concern is that it doesn't spread to the farm which is very close to the yard," she added.
She said there were chickens, alpacas, sheep, horses and other animals on the farm.
Justine Myers, 32, from Valley Mill Lane, Bury, said she could see the fire from her first-floor living room and first noticed it at about 18:30 on Thursday.
"It's absolutely huge, the smoke is heavy, heavy black and the flames are higher than the three storey building in front of it," she said earlier.
Sophia Meerally, 17, said: "We were so far away and could still feel the heat on us.
"I was roughly 400m away from the fire. I was worried about people closer to the fire and scared about things exploding that could potentially make the fire worse."