Bonfire Night: Greater Manchester firefighters attacked with fireworks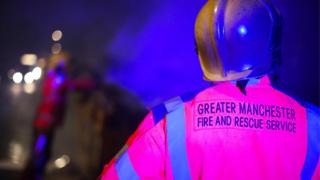 Firefighters responding to an out-of-control bonfire were attacked by a gang of 40 young people throwing fireworks.
Crews were called to Great Norbury Street in Hyde, Greater Manchester, on Tuesday when the group launched the fireworks in their direction.
Members of the fire service were also targeted in Oldham, Trafford and Bury and withdrew due to safety concerns.
"Attacks like these are not acceptable," Greater Manchester Fire and Rescue Service (GMFRS) said.
The fire service responded to 272 incidents between 16:00 GMT on Bonfire Night and 08:00 the next morning - a slight fall on last year when firefighters attended 291 incidents across the region.
Chief Fire Officer Jim Wallace said despite the attacks, crews members attending incidents during this period were unharmed.
"I would take this time to remind members of the public that our staff are doing their job, keeping the communities of Greater Manchester safe, and they want to go home to their families at the end of their shift," he said.
Last month, firefighter Paul Marston, 50, was injured after fireworks were aimed at him and a colleague by a group of 15 young people as they tackled a bonfire in Crumpsall Park on Ash Tree Road.
A firework became lodged under the back of Mr Marston's helmet - burning his hair and right ear.
"I have been a firefighter for GMFRS for 27 years and have never before been injured in an attack," he said.
"I'm proud to serve but I must confess the incident has shaken me."
In 2018/19, there were 961 attacks on firefighters in England, up 3% on the previous year.
Matt Wrack, general secretary of the Fire Brigades Union (FBU), condemned the attacks on fire crews as "absolutely appalling".
"Firefighters put their own lives on the line to save others - they are a vital part of the community and will save anyone and everyone, regardless of who they are, which could even include their attackers."
Riot police tackle Bonfire Night disorder in Leeds