Manchester Arndale stabbings: Praise for people who 'intervened' in attack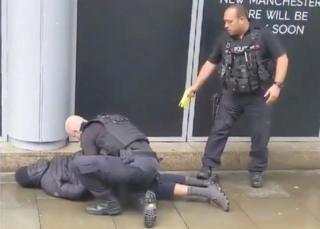 A Manchester Arndale worker and a member of the public have been praised for helping to stop a stabbing in which three people were hurt.
A man "lunged" at people in the shopping centre on Friday and attacked a 19-year-old woman, a man, 59, and another woman, who are in hospital.
Two others were hurt, but none of the injuries are thought to be life-threatening.
A 40-year-old man has been detained under the Mental Health Act.
Witnesses said people were "screaming and running" as they evacuated the centre after a man started to attack shoppers with a large knife.
A police spokesman said the 19-year-old woman required surgery after being stabbed in her arm, while the 59-year-old man suffered stab wounds to his hand.
Assistant Chief Constable Russ Jackson, from Greater Manchester Police, said: "We know that at least one member of staff from the Arndale and a member of the public intervened in the attack and we would like to praise and thank them for their bravery."
At a press conference earlier, police revealed they had searched a property in the city where the arrested man lived. Officers said they were trying to establish if he had any political, religious or ideological motivation for the attack, although nothing has so far has come to light.
He was initially held on suspicion of assault then re-arrested on suspicion of terror offences before he was detained under the Mental Health Act.
Greater Manchester mayor Andy Burnham said officials were keeping an "open mind".
"It's important not to jump to any conclusions although what I can say is that, at this stage, it would appear to be more mental-health related than political or religiously motivated."
He said the attack appeared to be "an isolated incident" and urged people to "go about their weekend" as they had planned.
The shopping centre, which is close to the arena where a terror attack killed 22 people in 2017, re-opened for business on Saturday.
Sir Richard Leese, leader of Manchester City Council, said: "Every time we have had an incident of this sort in the city, Manchester shows its resilience, its ability to come together and its determination to get on with business - to get on with life - and that's what we see today."
Mr Burnham added the attack highlighted "the debate about knife crime" and he would ask police to consider "more use of stop-and-search powers but in a way that is intelligence-led, non-discriminatory".
"Like other cities in the UK, in the past few years, Greater Manchester has seen an increase but… we actually recorded a significant fall over summer 2019 and that was, in part, due to a more targeted use of stop-and-search powers."
The force has appealed for anyone who was in the Arndale at the time to send images or footage via its website.