Ashton-under-Lyne mill fire: Homes evacuated as crews tackle blaze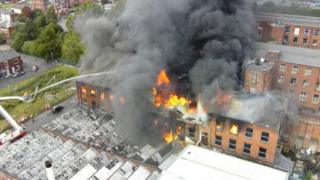 Residents were evacuated from their homes overnight as up to 70 firefighters tackled a blaze at a complex of mill buildings.
Fire crews were called to the blaze in Ashton-under-Lyne at about 15:10 BST on Tuesday.
Six engines remain at Oxford Street East, where three buildings have collapsed, the fire service said.
Tameside Council said a decision on whether to allow people to return to their homes would be made on Thursday.
Greater Manchester Fire and Rescue Service group manager Jason Rain said 50 residents were evacuated from nearby Gibson Terrace on Tuesday evening.
Others left voluntarily because the power had been switched off, he added.
About half were able to make arrangements to stay with family and friends but 23 people had to spend the night in a council rest centre at Ryecroft Hall.
Those affected were provided with beds, hot food and drinks, a council spokesman said.
"I'm pleased to see such a swift, comprehensive and personal response to ensure the safety of our residents," said council executive leader councillor Brenda Warrington.
Fire crews are expected to continue damping down at the site of the former mill, which had been home to a number of businesses, for several days.
Giles Griffiths, director of online retailer AGL United, based on the third floor, said all the company's stock had been destroyed.
He described the rapid spread of fire through the building as a "domino effect going from one to the other to the other".
"We never thought the mill would go up, but a building the size of a cathedral has been burned down," he added.
Mr Rain said: "It has been a large-scale incident with 15 appliances working through the evening, and working extremely hard, to try and control the blaze."
"Three buildings are now partially collapsed. They are unstable structures.
"From a business point of view, there's quite a lot of jobs within these mills."
An investigation into the cause of the blaze would take place when the fire is out, he added.
People in the surrounding area have been advised to close their doors and windows and road closures remain in place.