Flooding causes major disruption across north of England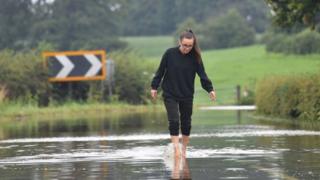 Roads have been closed, rail services cancelled and homes flooded as severe downpours affect large areas of the north of England.
A day of heavy rain has led to 16 flood warnings across the North West, the North East, Yorkshire and the Midlands.
Cheshire Fire and Rescue Service declared a major incident amid widespread problems in Poynton.
Vehicles were left trapped in the town, and a nursery, several homes and a farm were also swamped.
Firefighters said they rescued 11 people from flood water, and warned those in the area against taking to the roads.
Motorists were urged to drive only if "absolutely necessary", and Poynton's town clerk said people affected by the flooding were welcome at the town's civic hall.
Neil Griffiths, from Cheshire Fire and Rescue Service, said flood waters were beginning to recede on Thursday night.
Flood water has also caused disruption to the motorway network, resulting in the closure of the M60 between Stockport and Cheadle.
Eleven people and four dogs have been rescued from rising water in Bramhall, Stockport, Greater Manchester Fire and Rescue Service said.
Jackie Carter, from Bridge Lane, Bramhall, said she was trying to find somewhere to stay overnight because her house was contaminated by flood water.
At the scene
Richard Stead, BBC Manchester, in Bramhall, Stockport
The weather has been horrendous here; we have had torrential rain all day.
At the main Bramhall roundabout, where three roads meet, there is currently a lake about two feet deep.
Two men were paddling around in a canoe and were told to get out of the water by angry firefighters.
If they fell in, the firefighters would have had to rescue them.
Derbyshire Police said a number of properties had been flooded across the High Peak, in particular in and around Buxton, Whaley Bridge and New Mills.
Rail passengers were warned that floodwater could affect East Midlands, Northern and TransPennine Express services throughout Wednesday evening.
Northern said there was severe disruption particularly in Manchester, Liverpool, Lancashire and Cumbria.
It said it had not been possible to provide rail replacement services for all, due to the poor conditions of the roads and a lack of buses.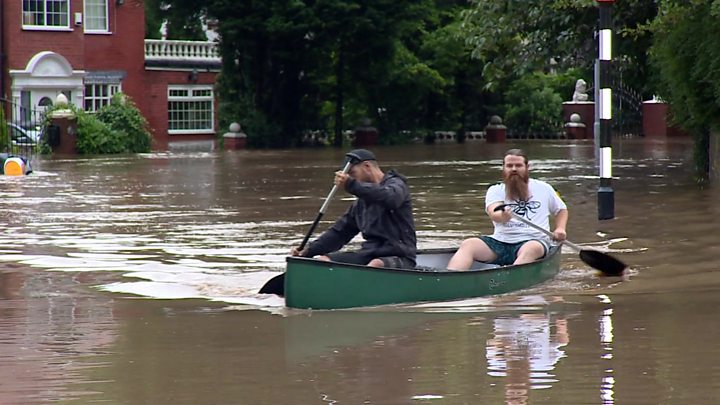 And workmen have had to pump 800,000 litres (176,000 gallons) of water from the new £290m dual carriageway - the A555 in Stockport, Greater Manchester .
It is the second time in a week the relief road linking the A6 at Hazel Grove and the M56 has been flooded.
The flooded section of road beneath Hall Moss Lane in Woodford was completed in 1995 and forms part of the government-funded Manchester Airport Relief Road project which opened in October 2018.
Flights at Manchester Airport have also been disrupted.
Videos posted on social media showed drivers negotiating deep water shortly before the A555 was closed to traffic.
Fire crews from Wilmslow posted pictures to social media of cars which had become stranded in water on the road, and urged motorists not to drive through floods.
On Tuesday, a bridge collapsed as flash flooding hit part of North Yorkshire when a month's rain fell in four hours.
The Army was drafted in to help with clean-up efforts in Grinton after storms left scores of homes, roads and businesses flooded.
The Met Office said 19mm of rain fell in the North West between midnight and 08:00 BST on top of heavy rain which deluged the region on Sunday and Monday.
The A555 was closed on Monday as half a month's rain fell in parts of the region in 24 hours.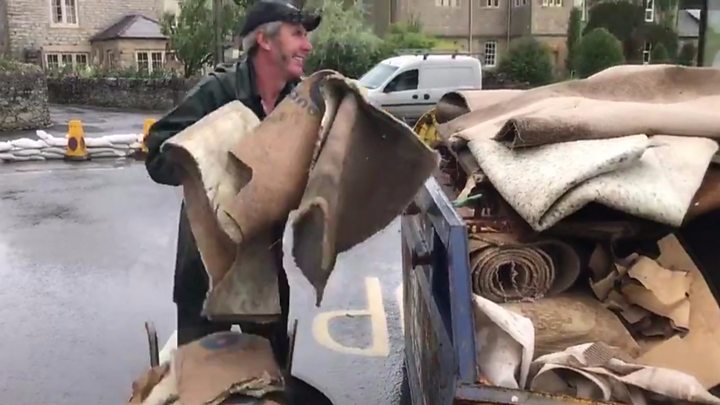 It re-opened on Tuesday evening before more heavy rain.
Cheadle MP Mary Robinson said after Monday's closure that the flooding of the road was an "emergency", and called for "better communication" between Stockport Council and drivers who used the road.
Manchester Airport said passengers were using alternative routes and had not been delayed.